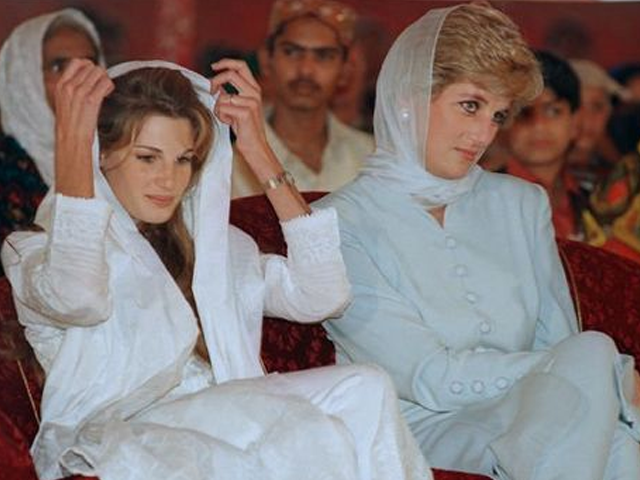 ---
Years after her passing, late Princess of Wales, Diana, has been in the headlines for both right and wrong reasons. Be it her lavish Royal wedding to Prince Charles, her struggles settling into the British monarchs, or how she longed to break free from the quintessential royal norms.

However, what the world talked about most was her crumbling marriage that inevitably resulted in her speculated affair with Pakistani doctor, Hasnat Khan. The Princess wanted to marry him and was ready to leave Britain, according to her close friend and Prime Minister Imran Khan's former wife, Jemima Goldsmith.




In a 2013 interview with Vanity Fair, titled "The Grandmother Prince George Never Knew", Jemima spilled beans on how Diana was head over heels for Hasnat, a heart surgeon in the UK.

Contrary to her other 'affairs', the one with Hasnat wasn't much publicised. Jemima told the magazine, "Diana was madly in love with Hasnat Khan and wanted to marry him, even if that meant living in Pakistan, and that's one of the reasons why we became friends."

She went on, "She wanted to know how hard it had been for me to adapt to life in Pakistan." Diana turned to Jemima for advice in reference to the latter's own marriage with a Pakistani man, which made her move to Pakistan.




According to Jemima, Diana would often consult her about living in Pakistan when she paid visits to the country. The PM's ex-wife also stated that Diana visited her twice in Pakistan.


"Diana went to Pakistan to help raise funds for Imran's hospital, but both times she also went to meet his family secretly to discuss the possibility of marriage to Hasnat."

Sarah Ellison,

Vanity Fair's

contributing editor claimed, "Princess Diana was reportedly in a relationship with Hasnat Khan from 1995 to 1997. Diana and Hasnat wanted to get married but the latter's mother never gave approval. The princess had told two of her friends that she wanted a daughter with him."
Friends tell Ellison that Diana made a point to get to know Hasnat's family, specifically seeking the approval of his mother, Naheed.
"For a son to marry an English girl is every conservative Pashtun mother's worst nightmare," Jemima told Ellison. "You send your son to be educated in England and he comes back with an English bride. It's something they dread."
But according to Ellison, Hasnat's decision to not marry Diana may have been the "greatest" gift to the princess.
Ellison spoke to some of Diana's friends who insisted that she had broken off the relationship out of frustration that Hasnat wasn't agreeing to marry her, or even make their relationship public. Jemima added, "He hated the thought of being in the glare of publicity for the rest of his life."
"Everybody sells me out," Diana told a friend the summer of her death, stated Ellison. "Hasnat is the one person who will never sell me out."
As her love affair with the doctor ended, Diana began a new relationship with Dodi Al Fayed. Diana and Dodi, the son of Egyptian billionaire Mohamed Al-Fayed, are said to have started their relationship soon after in the French Riviera.
The Princess' divorce from Princes Charles was finalised in 1996. Soon after vacationing together, Diana and Dodi died in a high-speed car crash on August 31. She was just 36 while Dodi was 42.
Have something to add to the story? Share it in the comments below. 
COMMENTS
Comments are moderated and generally will be posted if they are on-topic and not abusive.
For more information, please see our Comments FAQ