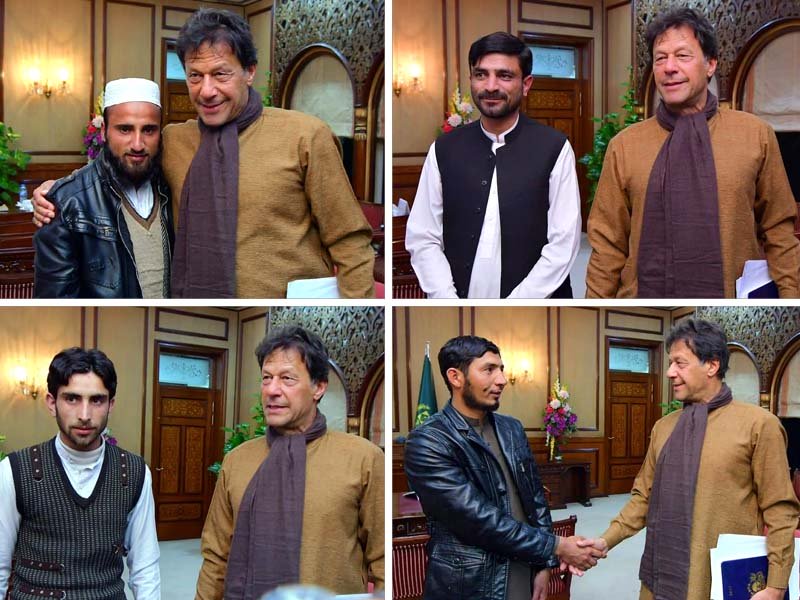 ---
Prime Minister Imran Khan met on Wednesday polio workers who rose to fame after braving Swat's snowy mountains to immunise children.

On January 28, a video of a polio team, trudging through deep snow in the country's northern areas went viral.


Polio teams work through out the year to protect your child against polio and it is to their tireless efforts and unmatched dedication to which we owe our progress. Thank you to our heroes - our polio workers. #endpolio pic.twitter.com/0dYZtUz9dr

— Pak Fights Polio (@PakFightsPolio) January 26, 2019


Focal person to PM on Polio Eradication Babar bin Atta and Health Minister Amir Kiyani were also present in the meeting held at the PM House.


سوات کی برف پوش پہاڑیوں میں چلنے والے پولیو ورکرز کی وزیراعظم سے ملاقات.
وزیراعظم نے پولیو ورکرز کو زبردست خراج تحسین پیش کیا
ملاقات میں پولیو سے ملک کو پاک کرنے کی حکمت عملی پر بات چیت کی گئی، فوکل پرسن بابر بن عطا اور وفاقی وزیر عامر کیانی بھی ملاقات میں موجود#SalamPolioWorker pic.twitter.com/gBTB8wW7gN

— PTI (@PTIofficial) January 30, 2019


A strategy to eliminate the debilitating disease was discussed in the meeting.

The polio eradication campaign in Pakistan has faced many challenges, from the refusal of parents to administer the drops to attacks on polio teams by militants.

A countrywide polio immunisation campaign commenced last week during which about 39 million children under the age of five were administered anti-polio drops.
COMMENTS
Comments are moderated and generally will be posted if they are on-topic and not abusive.
For more information, please see our Comments FAQ