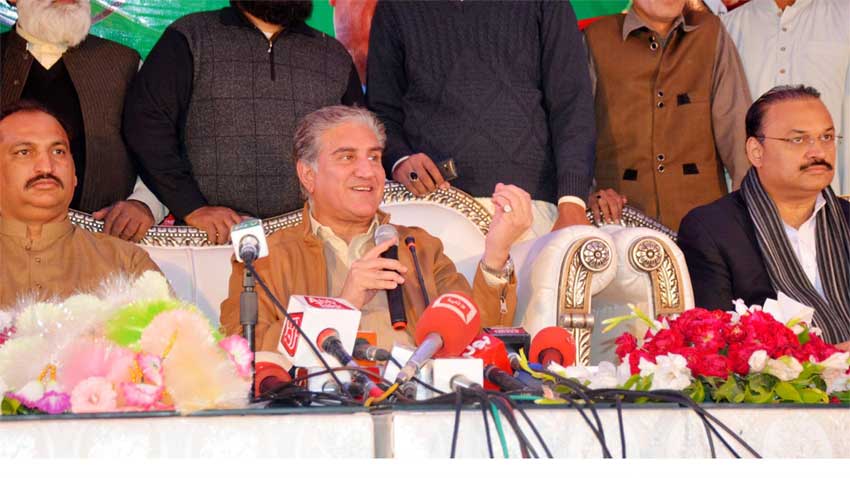 ---
MULTAN: Foreign Minister Shah Mahmood Qureshi has said the Pakistan Tehreek-e-Insaf (PTI) led federal government will establish a separate secretariat and a public service commission for the proposed South Punjab province in the ongoing financial year.

Talking to journalists in Multan on Saturday, Qureshi said some elements have launched propaganda against the establishment of South Punjab province. "However, it is the government's earnest desire to give an identity to the South Punjab province," he added.

"Two-third majority in the parliament is required for the establishment of a separate province and we are seeking the cooperation of all parties in this regard," he added.

South Punjab to have its own secretariat soon

Qureshi said the government has no authority to send anyone to prison. However, it would ensure implementation of court decisions.  He reiterated that all the cases against the Pakistan Muslim League-Nawaz and the Pakistan Peoples Party were registered during the tenure of the previous government.

"There is rule of law in the country and everyone is equal before the law," said Qureshi.

Talking about the Kashmir issue, Qureshi said all parties are on the same page on the issue of Kashmir and this year Kashmir solidarity day would be celebrated by all political parties.

Earlier, Qureshi, who is also the custodian of the shrine of famous Sufi saint Hazrat Shah Ruknuddin Alam inaugurated the three-day celebrations of the saint's annual Urs in Multan.

Addressing participants of the National Shah Rukn-e-Alam Conference, Qureshi said peace, tolerance and brotherhood are mandatory for establishing a model society.  "We should follow in the footsteps of these Sufi saints to establish moral values and peace in society," he added.

He said despite extremely cold weather and rain thousands of devotees had come to Multan which is proof that the shrines of Sufi saints are the centres of spiritual learning.  "The message of Sufi saints should be promoted for the development."

Creation of South Punjab province seems a distant dream

"Hazrat Shah Ruknuddin Alam was very friendly to people; he used to solve their problems without asking about their sect or religion. Even after hundreds of years, these Sufi saints are alive in the hearts of people because they served humanity without any discrimination."

Qureshi said Pakistan is facing various internal and external challenges and conspiracies are being hatched to divide the masses but the Pakistani nation can defeat these conspiracies by following the teachings of Sufi saints.

Addressing the participants, former federal minister Hamid Saeed Kazmi highlighted the role of Tasawwuf in the history of Islam. He said Sufism attracted non-Muslims and they embraced Islam. Multan remained a centre of Tasawwuf because of the presence of these Sufis, he added.