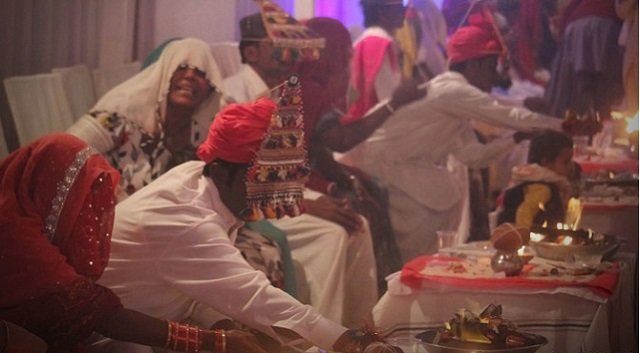 ---
KARACHI: Seventy-nine Hindu couples including some from Tharparkar, tied the knot at a mass wedding ceremony held in Karachi.




The event was organised by the Pakistan Hindu Council (PHC) on Sunday.

The PHC Founder Ramesh Kumar Vankwani and PHC Chief Gopal Khamwani welcomed visitors to the ceremony.




Speaking on the occasion, Vankwani said that this is the eleventh event organised by the PHC since the start of 2018.

The PHC founder said that the council would organise more mass wedding events such as this in the future.

Pakistan's First Wedding Wish list

He said that dowry of Rs100,000 each is also given to each couple selected across Sindh.




The marriage ceremony included all Hindu religious rites with flowers music and fireworks.

One of the couples said the "PHC is helping alleviate the problems of the Hindu community in Pakistan as many girls can't even get married."
COMMENTS (2)
Comments are moderated and generally will be posted if they are on-topic and not abusive.
For more information, please see our Comments FAQ