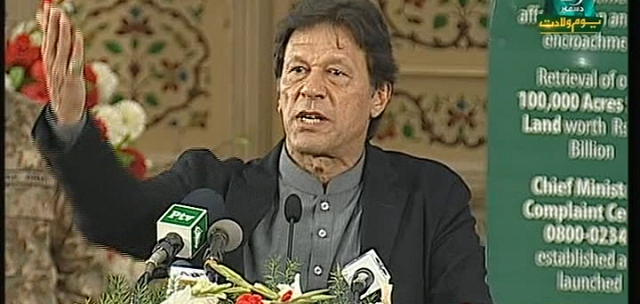 ---
LAHORE: [fbvideo link="https://www.facebook.com/etribune/videos/283816722336693/"][/fbvideo]

Prime Minister Imran Khan has said giving equal rights to the religious minorities is cornerstone of the vision of the country's founding father and that Pakistan will show the Indian Prime Minister Narendra Modi how to treat these groups.

"We have to help our minorities and protect them as Quaid-e-Azam Mohammad Ali Jinnah laid emphasis on granting equal rights to minorities," said Imran while speaking at an event held to highlight the 100-day achievements of the Pakistan Tehreek-e-Insaf (PTI) led Punjab government on Saturday.

"If justice is not given to the weak then this only leads to an uprising. The people of East Pakistan were not given their rights and this was the main reason behind the creation of Bangladesh," he added.

Imran also called graft "security threat" and reiterated that he would not back out from his "commitment" to carry out accountability of the corrupt.  "The country's security will remain under threat until action is taken against the corrupt. Strict action against graft is vital for country's bright future," said Imran. "We accepted opposition's demands to make Shehbaz Sharif chairman of the Public Accounts Committee (PAC). We also issued production order of MNA Khawaja Saad Rafique who is in custody of the National Accountability Bureau (NAB) for corruption. But we will never accept opposition's pressure to abandon the current accountability process."

Criticising the opposition parties, the premier said they always talk about sacredness of parliament but got a law approved from parliament to allow a corrupt person to head a political party.

Imran said the PTI government had not made a single case against any member of the opposition parties and all the cases were filed during the Pakistan Muslim League-Nawaz (PML-N) government.

"Fake bank accounts' case [against the Pakistan Peoples Party (PPP) Co-chairman Asif Ali Zardari and his sister] initially surfaced in 2015 and later in 2017, but the [PML-N] government then did not allow institutions to probe independently.

Imran Khan inaugurates university at PM House

"Today, the opposition parties have teamed up against the PTI government because it did not stop Federal Investigation Agency (FIA) from investigating [the Rs36 billion] scam," he said.

Imran said China had arrested 400 ministers and thousands of other government officials over corruption in the last five years because they know corruption destroys society.

The PM appreciated Punjab Chief Minister Usman Buzdar and his team for making 'remarkable efforts' to put the province back on the track of prosperity. He also appreciated Punjab finance minister for a comprehensive presentation about the provincial government's performance.

He said the PTI government believes in inclusive development. The provincial government has decided to fairly distribute resources among all districts of Punjab. It will help in bridging the gap between the government and public, he added.  Criticising the previous PML-N government for spending Punjab's budget on Lahore, Khan said Buzdar is an honest man as his loyalty is with this country only.

"Individuals who own their assets abroad cannot be loyal to Pakistan. They rule Pakistan but buy properties in other countries and spend their holidays abroad," he said.

Khan said the world will bring in investment when they realise the leadership of a country is not corrupt. Investors are coming to invest in Pakistan and it will help grown national economy.

He said the government will provide an environment to investors in which they can generate wealth through legal means. It will help in creating new jobs and give boost to the economy.

PM Imran urged to use cycle for commuting



He gave examples of Malaysia and UAE where Mahatir Muhammad and Sheikh Muhammad created an environment that offered opportunities to investors to make money and help both countries to grow.

Khan said major reforms will be made in various sectors to bring relief to the common man. Civil code procedure will be reformed in order to reduce the time involved in disposal of cases.

"Courts will decide the cases in one-year time after the introduction of reforms. This will be started in Centre, Punjab, Khyber Pakhtunkhawa and Balochistan soon," he said.

He said police reforms are mandatory to depoliticise the department and make it a modern law enforcement force. Three new police training centres will be established in the province.

He said agricultural reforms are also very important as it acts as a backbone of the country. Small farmers will be empowered and facilitated to raise their living standards.

'Austerity at PM House saved Rs147m'

Earlier, Punjab CM Buzdar said his government is taking steps to improve service delivery of public department.  "We have launched an operation against encroachment for the first time ever in the history of Punjab. We will serve the people more than what they expected from us," he said.

Earlier, the PM interacted with business community and assured it that industries would get gas and electricity at lower rates. "I assure you that we will improve the atmosphere for industry," he said in his address to a luncheon organised by the All Pakistan Textile Mills Association.
COMMENTS (11)
Comments are moderated and generally will be posted if they are on-topic and not abusive.
For more information, please see our Comments FAQ