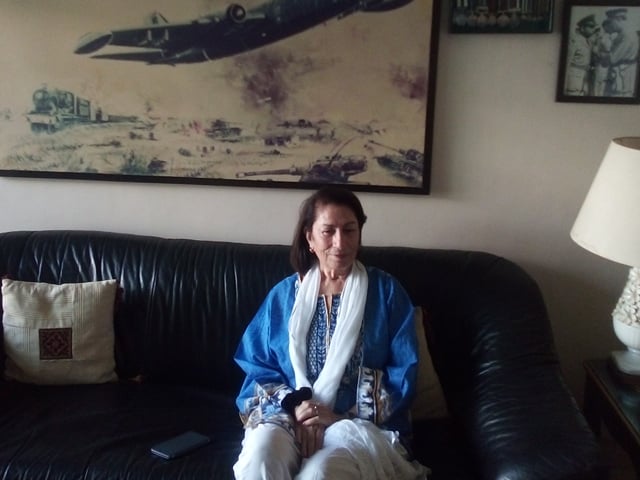 ---
KARACHI: It was one of those rueful days when I lamented my inability to read Urdu properly. Delhi se Defence had a successful third-edition launch at the PACC in Karachi recently but at the event, I could only gaze at the title page or turn its pages aimlessly. In fact, the title of the book was actually what intrigued me. I decided to meet the author Suboha Khan shortly after that.

One fine morning, I telephoned the lady and she sweetly agreed to meet me later in the day. I arrived at Khan's house and was directed into a lounge adjacent to a greenhouse. The atmosphere was warm, the room full of pictures of army officers, air force pilots and medals. Very soon, a smartly-dressed lady in her early 70s arrived and greeted me warmly.

Kamila Shamsie's 'Home Fire' bags cash prize of £10,000

A few minutes into our discussion, I came to know Delhi se Defence is an autobiography that narrates the touching tale of a family living through Partition. The author proudly recalls the incessant struggles of her mother, who braved the pains of migration, empty-handedness and the loss of family and friends singlehandedly and beat all odds.

Delhi se Defence recounts the journey of Khan's family from Delhi and her settling in the Defence neighbourhood of Karachi. Another reason she used the word 'defence', Khan said with pride, is because all the men in her family are in the armed forces. Her brother is in the Air Force, as were her husband and her eight brothers-in-law, two of whom were martyred.

Looking into the Faiz Ahmed Faiz-Kashmir connection

The book follows a girl – a daughter, sister, wife and a mother - who embarks on a journey through time, starting off from Partition, up until 1998. But why did Khan choose to write it? She said her decision stemmed from a feeling of not being accepted as a Pakistani, even after all these years on this side of the border. The writer revealed the exact moment that birthed the idea of Delhi se Defence: She was at an event some time ago when an acquaintance told her, "Aaj bari Sindhi bani bethi ho?"

"Those words hit me somewhere in my heart and the pain refuses to go… still," Khan told The Express Tribune, agony in her eyes. "Thus, on a visit to Canada, in the late cold nights, I began writing my life story half told to me by my mother."

5 characters you'll always find at the Urdu Conference

In just about a month and a half, Delhi se Defence was ready. It revolves mostly around the hardships faced Khan's her mother, who she sees as a warrior; a dynamic and dauntless woman who lost her husband just 20 days after landing in the newly-founded Pakistan empty-handed but persevered merely with her faith in God. The author has also mentioned her mother-in-law who courageously accepted the martyrdom of her two sons, saying it was the will of the Divine.

When asked if she has any regrets, Khan sighed and said she still feels very guilty for something she did years ago to save her marriage. There is chapter in the book which details the events.

Today's poets should write about the harsh realities of society: Javed Akhtar

"It's still a great burden on my heart but at least I have the courage to accept my mistake," she confessed before sharing the story. When Khan's family migrated from Delhi in 1947, her maternal uncle took them in. They lived with him in the GHQ quarters from then onwards. As she was just two at the time, and had never met or seen a picture of her biological father, the uncle was like a father to her. "He cared for me just as my father would have done, and also for my brother and sister. He remained a bachelor all his life just to look after us," she shared.

After Khan and her siblings got married, her uncle – who was living alone by now – fell very ill. She brought him to her own home and had his eyes operated upon but he lost his sight in the process, which left him in a state of depression. "At this point, my married life started to suffer, my husband started to throw tantrums so I selfishly sent my uncle off to live with my brother in Pindi," she said, remorsefully.

Kaifi and Faiz never wanted people to lose hope: Shabana Azmi

"While he was at my place I made every effort to take care of him. I would wake up at night two to three times to see if he was sleeping well and covered with a blanket," Khan reminisced, adding that there was no one to look after him at her brother's place in the chills of Pindi. "He died within a few days from pneumonia."

"Till today, I feel very guilty. I was so selfishness with someone who dedicated his whole life to for me and my siblings. I often wonder…Is this the way Allah rewards those who are selfless?" she asked me, who was softly crying by now.

Industry insiders pay tribute to late writer Fahmida Riaz

This was my cue to ask for her leave. I finished my cup of coffee, took a few pictures and departed with a heavy heart. Even though I've heard many stories of Partition, Khan's just touched me in a different manner altogether. That day, I learnt that no matter what happens, we must repay those who are generous and caring towards us in any way that we can, especially in our worst of times.

Delhi to Defence has had three editions – one has been translated into Hindi and was launched in India this year. Khan has penned six other books along with this.

Have something to add to the story? Share in the comments below.