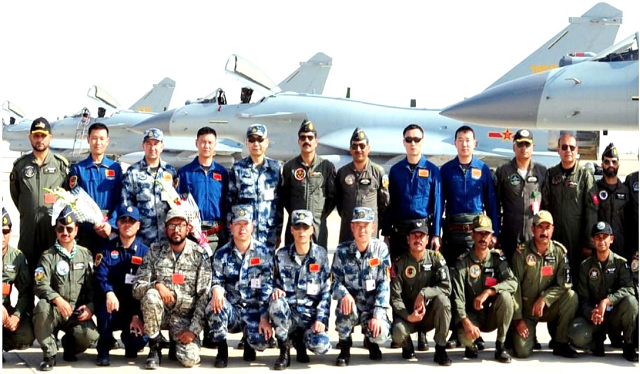 ---
Joint International Air Drill of Pakistan and China, Shaheen VII began at an operational airbase in Pakistan, Radio Pakistan reported.

According to a Pakistan Air Force (PAF) spokesperson, a contingent of Chinese Air Force has arrived in Pakistan which includes pilots and air defence controllers.

Apart from the technical crew, fighter, bomber and early warning AWACS airplanes of Chinese Air Force are also part of the drill.

Senior US admiral found dead in Bahrain: official

It is the seventh air exercise in the series of joint air drills with the Chinese Airforce. Shaheen VI was held at a Chinese airbase last year.

Pakistan and Russia held joint naval drills in the North Arabian Sea on Saturday  to promote their joint operation capacity.

According to a statement issued by the Pakistan Navy, Pakistan and Russian Navy ships carried out mock drills during the exercises.

During their visit to Karachi Port, Russian Navy officers held meetings with a field commander of Pakistan Navy and laid a wreath at Quaid-e-Azam Muhammad Ali Jinnah's mausoleum.

Pakistan, Russian navies hold joint drills in Arabian Sea

Islamabad and Moscow agreed on Thursday to upgrade bilateral ties to the level of strategic partnership during a meeting between Foreign Minister Shah Mehmood Qureshi and Russian Ambassador Alexey Dedov.

The two sides agreed to improve cooperation in the field of defence production. Relations between Pakistan and Russia have increased significantly during the last few years with a focus on bilateral defence ties.
COMMENTS
Comments are moderated and generally will be posted if they are on-topic and not abusive.
For more information, please see our Comments FAQ