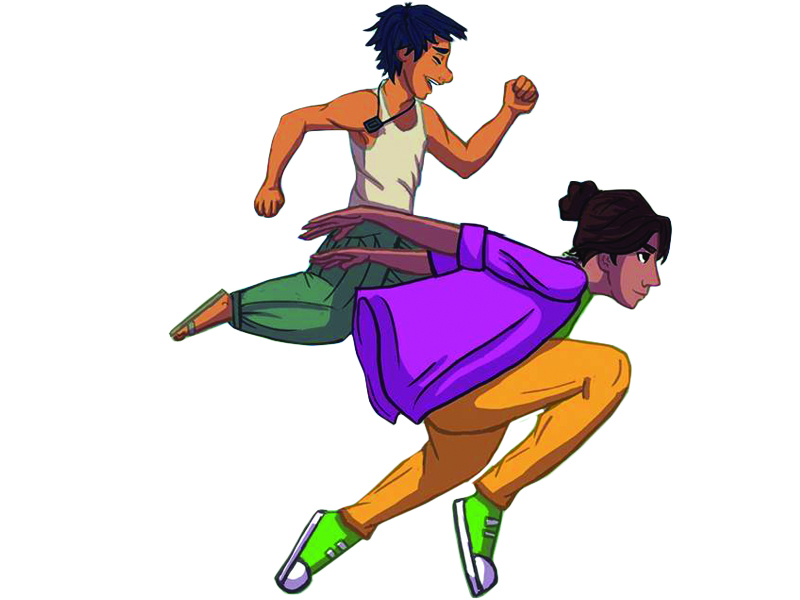 ---
KARACHI: In a landmark decision, the National Assembly passed on May 8 this year the Transgender Persons (Protection of Rights) Bill, 2017 with majority votes. Aiming to provide due rights to members of the transgender community, it validates transgender identity and expression.

Pakistan achieved a milestone on May 8, 2018.

Echoing the necessity of civil participation and inclusion of marginalised members of society, which one can find in the above Bill, AzCorp Entertainment's most recent venture - Basila and the Street Crew - brings issues of the transgender community to light. Set to release next week (December 2), the comic series portrays transgender persons in every day societal roles - a mother, a teacher, an aunt - highlighting their struggle to survive in and save an unforgiving society from social ills.

What is #InkaarKaro and why is it necessary for Pakistan?

"We encourage concepts of diversity and tolerance through our comics," AzCorp Project Manager Erum Daniyal told The Express Tribune.

Pioneers in comic book development in Pakistan, AzCorp Entertainment caters to children over six years up to young adults. They first launched 'Team Muhafiz', a comic series targeting teenagers which contains short and entertaining stories revolving around a group of teenage Pakistani superheroes fighting real-life issues of trafficking, terrorism and child marriages.




Next came 'Sheeba and the Private Detectives', featuring four friends who love education and are determined to challenge illiteracy and ignorance against all odds. What stood out in this comic series was that the characters use principles of science and math to help solve the gravest of community conundrums.

The third comic series, 'Mein Hero [I Am A Hero]', was based around the idea that there is a hero in all of us. It aimed to unglamorise the concept of a hero and instead encourage young minds to identify qualities of a hero and develop problem-solving skills to resolve matters. The comic celebrates unsung heroes in society. AzCorp took up the initiative to do pilot activities after this series with schools in Lyari, Shireen Jinnah Colony and Malir.

The brainchild of Anain Sheikh, Basila and the Street Crew - the upcoming comic is the story of a young girl raised by her transgender aunt, Riffat Apa. Together with the help of her friends, Basila fights to eradicate all the issues found on the streets of Karachi. From child labour to animal abuse, Basila is a saviour to anyone suffering from such evils.

Hoping to change public opinion about the transgender community, which is largely shaped by the media amid other factors, the team has worked with the likes of journalist Zarrar Khuhro on this project.

"The essence of Basila is to speak up," said Daniyal.

In a society where we're still struggling to find the courage to have difficult conversations, evoke social consciousness and fight for equality, Basila and the Street Crew won't just serve the purpose of a comic, but rather as a voice for the oppressed transgender community. It will be a step in the right direction in the fight for rights for the next generation of transgender Pakistanis.

More than just comics

The group conducts trainings in various public schools across the city where children are engaged in a set of activities aiming to highlight diversity and tolerance. The trainings are not preachy, says Daniyal, highlighting that they are instead designed to be interactive.

Many public space management groups are also trained in "master trainings" after which they are responsible for conducting a set number of similar trainings targeting the youth over seven to eight months to keep the process going. These follow-up trainings are monitored by AzCorp.

Body formed over transgender rights law

Break the silence - #SpeakUp

A digital campaign, #SpeakUp, was launched in October this year as part of the Basila and the Street Crew project. The campaign aims to bring people together for open conversations about tough topics.

Since the campaign launch, AzCorp has been regularly updating its social media with short video messages encouraging people to speak on issues they want to take a stand for. In a series of videos, environmentalist and activist Afia Salam talks about environmental issues, writer Rumana Husain on everyone's right to education and education as the way forward, Childrens Museum for Peace and Human Rights Program Director Rashida Khan on disability and inclusion, AzCorp CEO and Founder Imran Azhar on the importance and application of knowledge, Daniyal on rights of domestic help and the AzCorp creative team on children's right to choose their own career, among various others.



Published in The Express Tribune, November 26th, 2018.
COMMENTS
Comments are moderated and generally will be posted if they are on-topic and not abusive.
For more information, please see our Comments FAQ