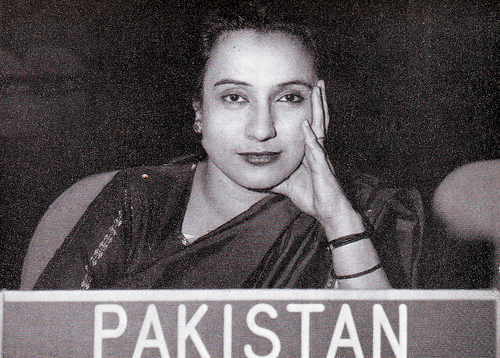 ---
Begum Shaista Ikramullah, who passed away in 2000, is featured as a woman who shaped the Universal Declaration of Human Rights at a United Nations (UN) exhibition

The renowned politician, diplomat and writer was Pakistan's delegate to the UN and ambassador to Morocco in 1964.

Quetta woman clinches first Karate medal for Pakistan in Asian Games

A description shared by Pakistan's current ambassador to the UN, Maleeha Lodhi, reads:

"As a delegate to the General Assembly's Third Committee on social, humanitarian and cultural matters, which in 1948 spent 81 meetings discussing the draft of the Universal Declaration of Human Rights, Begum Shaista Ikramullah of Pakistan advocated for emphasis on freedom, equality and choice in the declarations. She championed the inclusion of Article 16, on equal rights in marriage, which she saw as a way to combat child marriage and forced marriage."


It is a source of great pride for Pakistan that Begum Shaista Ikramullah is featured among women who shaped the Universal Declaration of Human Rights at an exhibition at the UN to mark the 70th anniversary of the adoption of the Declaration. pic.twitter.com/LHh7USDN3G

— Maleeha Lodhi (@LodhiMaleeha) November 23, 2018


Begum Ikramullah was one of the first Indian Muslim women of her generation to leave purdah. She completed a thesis titled A Critical Study of the Development of the Urdu Novel and Short Story for which she became the first Muslim woman to be awarded a PhD from the University of London.

After meeting Muhammad Ali Jinnah in Delhi, Begum Ikramullah became inspired to join Muslim politics. She led the Muslim Women Students' Federation and the Women's Sub-committee of the All India Muslim League and migrated to Karachi in 1947.

Justice Tahira Safdar nominated as first female chief justice in Pakistan

Begum Ikramullah joined the Constituent Assembly as one of only two female members and her efforts to improve relations between East and West Pakistan and to improve the political participation and legal status of Muslim women marked her seven-year legislative career.

Begum Ikramullah also made significant literary contributions throughout her life including her autobiography titled From Purdah to Parliament (London, 1963). She was conveyed the Nishan-e-Imtiaz posthumously in 2002.