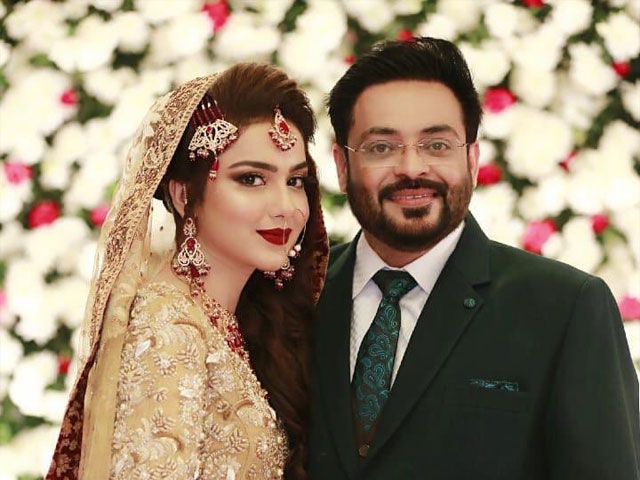 ---
Famous TV personality and PTI leader, Aamir Liaquat Hussain, is known for making headlines every now and then. News of him tying the knot recently came to light and the famed anchor confirmed it via Twitter by sharing pictures from his Valima event.

However, the 47-year-old MNA received severe criticism over his marriage after a tweet by his daughter from first marriage went viral on social media. Liaquat has finally responded after many criticised him for not taking care of his first family.




"Since the news of my marriage broke on social media, it feels like I've committed a grave sin," he can be seen saying in a three-minute long video. "All I want to say in this regard is that whoever has been reporting about my personal life, let me just say that it is not only highly inappropriate, it's wrong."

He further added, "No one came and ask me what happened or what the actual story was. How can you interfere in someone's personal life? Who gave you the right. I don't disclose my personal affairs publicly and I would like that to stay that way."

https://www.youtube.com/watch?time_continue=4&v=vx-pTIlBLcw

Aamir continued that he still takes care of his first wife and children. "The problem is that we are so accustomed to the Hindu culture, that it has made us narrow-minded. We think of the second marriage as unacceptable," he shared. "We believe fornication is justified, but Nikkah isn't. It's Sunnah and we follow the teachings of Prophet Muhammad (PBUH)."

"I don't wish to address this matter any further. Yes, I have tied the knot again. It will be eternal. Both my families are happy," he added. "A home is destroyed when there's a divorce. I haven't divorced anyone."

Have something to add to the story? Share it in the comments below. 
COMMENTS (5)
Comments are moderated and generally will be posted if they are on-topic and not abusive.
For more information, please see our Comments FAQ