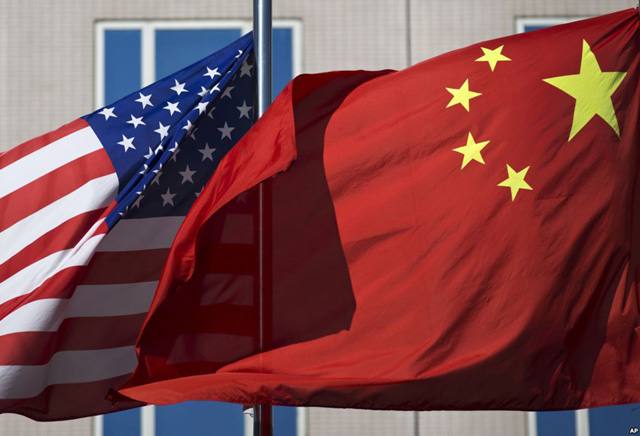 ---
The US-China rivalry is the main factor for stability in South Asia today, said American University of Afghanistan (AUOA) President Dr Kenneth Holland.

Region's stability was also being affected by the security and economic interests of three great powers—China, Russia and the United States, he said.

Dr Holland was speaking at the conclusion of the two-day international conference on Nuclear Deterrence and Strategic Stability in South Asia organised by Strategic Vision Institute (SVI) - an Islamabad based think tank.

"The rivalry between China and the US is the strongest force affecting South Asia's stability, one consequence of which is that India is an ally in the American Indo-Pacific strategy," he stressed.

Trust and confidence between India and Pakistan, based on mutual benefit was key to achieving strategic stability in South Asia.

Leading international experts believe that while regional security was being adversely impacted by India-Pakistan rivalry, it has now been further complicated by the great power rivalry.

A number of international as well as local experts spoke at the conference.

The think tank believes that equilibrium of nuclear deterrence between India and Pakistan is the underpinning of the South Asian strategic stability.

Pakistan's former permanent representative at the United Nations in Geneva Ambassador Zamir Akram said that while deterrence equilibrium may have been achieved in South Asia, but there is no nuclear order in the region.

"Nuclear Order is further destabilised by impact of emerging global developments – US-China rivalry; US-India strategic partnership; Nuclear waiver for India; continuing discrimination against Pakistan," he added.

Strategic Plans Division (SPD) Arms Control & Disarmament Affairs (ACDA) former director general Khalid Banuri said India was responsible for the problematic situation wherein two nuclear weapons states were not talking to each other. "South Asia is caught up in endemic hostility, where India is refusing to come to the table".

Speaking about the security dilemma in which the region is caught, he noted that canisterisation of missiles, acquisition of S-400 missile systems, and nuclearisation of Indian Ocean by India were disturbing developments.

Dr Zafar Khan, who is teaching at National Defence University Islamabad, proposed that security dilemma could be mitigated through creation of some form of restraint regime in South Asia, adhering to agreed confidence building measures, maintaining a moratorium on nuclear testing, increasing economic integration and most importantly seeking resolution of outstanding issues particularly the core of Kashmir.

Dr Bhumitra Chakma from The University of Hull, in his presentation which reflected the Indian perspective about the challenges of strategic stability in South Asia, said strategic stability in South Asia is being strained by multiple factors. "Indeed, South Asia's nuclear security dilemma is complicated not least because of India-Pakistan enduring rivalry it is also complicated because of its extra-regional dimension."

About the absence of steps for normalisation of relations between Pakistan and India, he said, "deterrence stability will remain challenging as long as the two countries cannot come to a political understanding."

He further said that deepening strategic partnership between China and Pakistan, as manifested by China-Pakistan Economic Corridor, has raised fears of encirclement in India.

He, therefore, proposed a triangular dialogue on nuclear doctrinal and operational issues involving China, India and Pakistan for addressing strategic instability in South Asia.

Meanwhile, M Dale Walton of Lindenwood University (US) contended that the belief that deterrence stability exists has encouraged complacency. 

Published in The Express Tribune, November 9th, 2018.