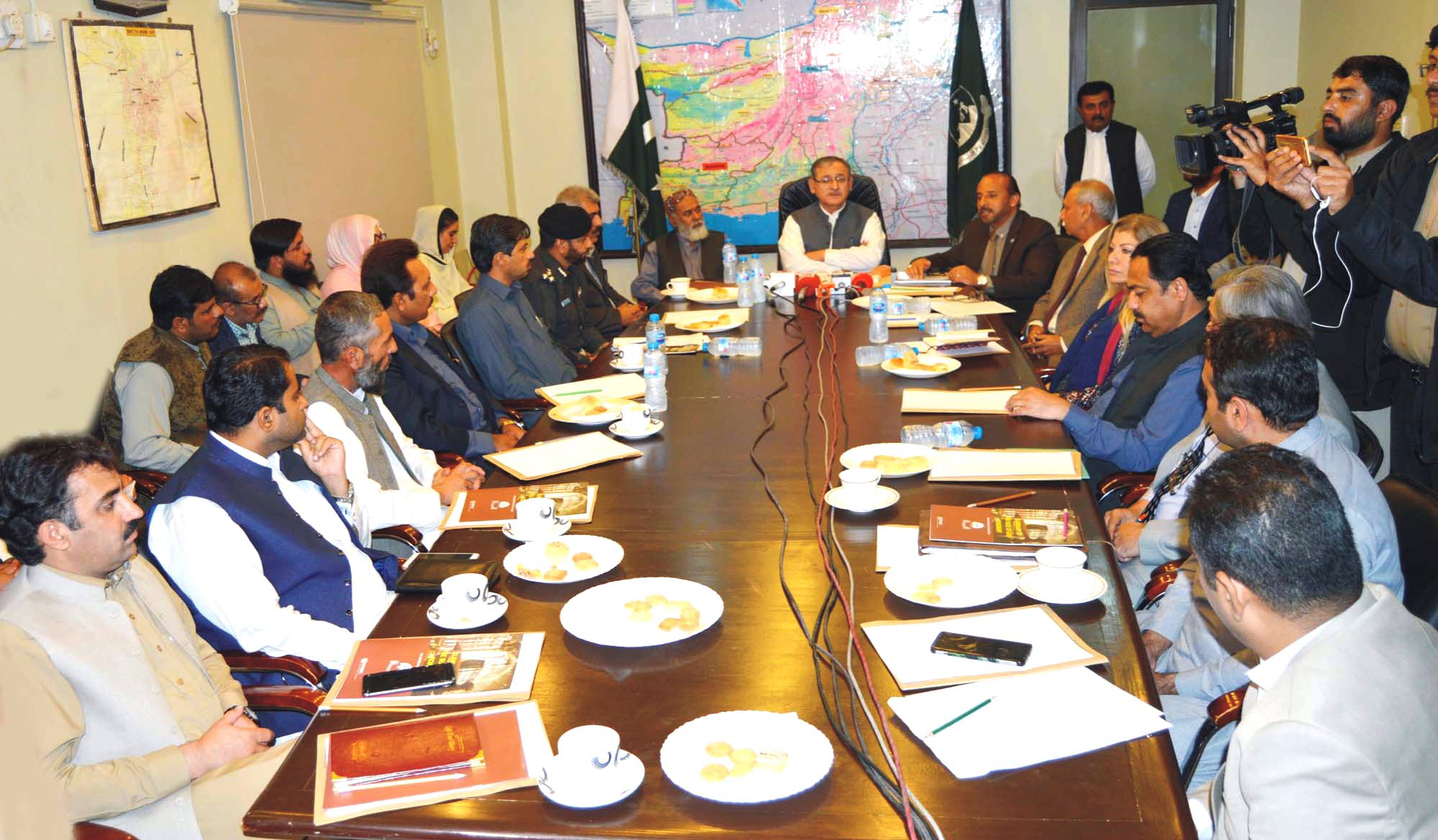 ---
QUETTA: The Balochistan government, in collaboration with the United Nations Office on Drugs and Crime (UNODC), has inaugurated the 'Delivery Unit' at the home department to implement the 'Rule of Law Roadmap' in the province.

The step aims at improving the delivery of justice to the citizens of Balochistan over the next five years.

Peace essential to development: minister

"Ensuring rule of law is the most important priority of the Balochistan government," said Balochistan Home and Tribal Affairs Department Secretary Haider Ali Shikoh while addressing the inauguration ceremony at the home department on Tuesday. Shikoh and UNODC representative Cesar Guedes inaugurated the Delivery Unit.

The home secretary said, "Today we have taken a concrete step towards implementation of the Rule of Law Roadmap by inaugurating the Delivery Unit with the support of UNODC which has been a partner in improving the justice system in Balochistan for the last eight years."

The Rule of Law Roadmap was approved by the Balochistan Cabinet.

NP revived peace in its tenure: leader

"The Balochistan government is leading in the implementation process of Rule of Law Roadmaps across all provinces despite on-ground challenges," said the UNODC representative. "Launch of the Delivery Unit is proof of that and the government's ownership and commitment throughout the process translates their strategic vision into action and becomes a role model for other provinces to follow."

Guedes said the UNODC would continue supporting the Balochistan government and other relevant stakeholders in instilling rule of law and justice for all citizens in the province.

Senior Adviser to the UNODC on Rule of Law Tariq Khosa, IG Police Mohsin Ahsan Butt, Prosecutor General Balochistan Amer Zaman Jogezai and key representatives from the home and tribal affairs department, law, planning and development, reclamation and probation, Levies, prisons, judiciary as well as staff of the UNODC were present at the launch event.

BAP chief vows peace, prosperity in province

They all welcomed the inauguration of the Delivery Unit, and the start of the operationalisation phase of the roadmap. The first meeting of the steering committee was convened after the event. It was headed by Shikoh, and all the stakeholders took part.

The Rule of Law Roadmap is a comprehensive document encompassing significant and inclusive reforms with high government ownership aiming at strengthening the justice system of Balochistan over the next five years (2018-2022).

NCHR concerned over burgeoning rights violations in Balochistan

This instrumental and strategic document was developed by UNODC under the umbrella of a joint programme with UNDP and UN Women with the support of the British High Commission. UNODC's support to the government of Balochistan was instrumental in developing and endorsing the roadmap.

The UNODC remains committed to supporting Balochistan in putting into action the vision of the government whereby the launch of the Delivery Unit is crucial in putting in place the proper foundation that would lead and coordinate reform in the justice sector in the province.