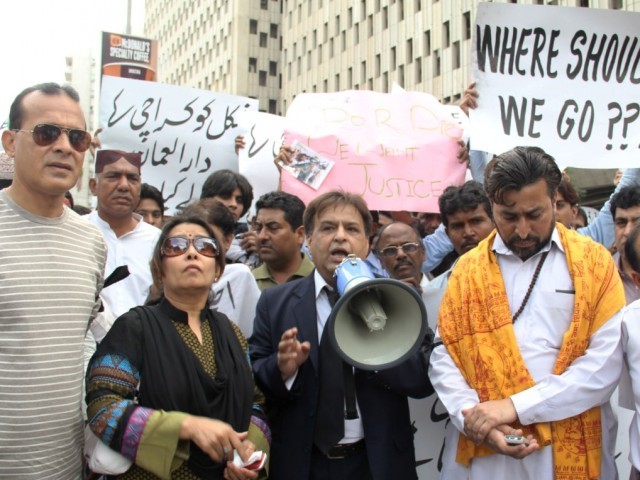 ---
HYDERABAD: The Hindu community in Matiari district took to the streets on Sunday to express their outrage over the alleged kidnapping of a minor Hindu girl and against the police who were blamed for delaying her early recovery. Hundreds of protesters from the community gathered for a demonstration in Hala town. The community's traders also kept their businesses shut.

Monika Luhano, 11, a student of class six, was abducted by four men from her father's residence on Friday. The Hala police station registered an FIR on complaint of her brother, Pushpal Luhano, who nominated Mushtaq Mahar, son of a government school teacher Sabit Ali Mahar, and three others in the FIR.

"Mushtaq and three others, all armed, entered our house and took away my sister. When we resisted, they warned that we would be shot dead," Pushpal had claimed.

According to him, before the kidnapping incident, Mushtaq used to stalk his sister by following her in the street of their residence. He had claimed that he warned the suspects against wandering on their street a few times. The local Hindu Panchayat and the Hindu traders had joined the family in a protest and surrounded the police station before registration of the FIR on Saturday.

In their chants, they had demanded the recovery of the girl and punishment for the alleged kidnapper while demanding security for their community living in Hala. Meanwhile, Hala SHO Shakil Ahmed Rind had assured the protesters that the police would arrest the suspect and requested them to disperse.

Seth Nand Kumar, a representative of the community, complained while talking to the media that the police have failed to recover the girl even three days after the incident. He expressed fear that the underage girl may be forced into marriage with the kidnapper. He had warned of a stronger reaction across the province if Monika is not recovered. The community did not send their daughters to school on Saturday.

Kundan Lal said renewed fears about safety of their daughters have gripped their community after the incident. He deplored that the police appeared helpless in recovering the girl.

The police raided on Saturday the residence of Mushtaq and detained the suspect's father and some other persons. However, the four suspects and the girl were not found at the residence, according to the SHO.

The protesters appealed to Sindh IG Kaleem Imam to task the recovery of the kidnapped girl to a special team of police officers.

The Sindh Child Marriages Restraint Act, 2013, has declared the marriage of young people of under 18 years of age as an offence. The persons solemnising such a marriage are punishable under the Act. Monika was enrolled in Government Girls Primary School, Makhdoom Rafique Zaman.



Published in The Express Tribune, October 22nd, 2018.
COMMENTS
Comments are moderated and generally will be posted if they are on-topic and not abusive.
For more information, please see our Comments FAQ