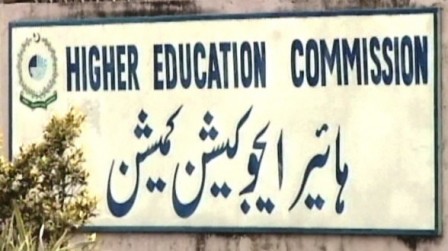 ---
ISLAMABAD: Executive Director of the Higher Education Commission Dr Arshad Ali has resigned from his position, reportedly out of fear of his looming sacking. A brief statement released by the HEC spokesperson said Dr Arshad resigned to save the commission's goodwill from any possible damage.

The commission is said to have recommended his termination after finding heavy plagiarism in his research papers while HEC Chairman Dr Tariq Banuri is said to address a press conference over the matter.

According to reliable sources, Dr Arshad resigned fearing his termination as more than 60 per cent matter in his 2014 paper is reported to be plagiarised from University of Texas.

Learning Chinese: HEC awards scholarships to 36 students

Dr Arshad published this paper and used it to complete his degree. Sources revealed the 18-member commission of the HEC remained nonoperational for a long period and implementation of many high-profile cases involving that of the HEC ED hung in the balance despite final reports being ready.

The plagiarism case's report had been completed in April, 2018, which confirmed content theft and recommended action.

When plagiarism by the HEC top official was proven, the then HEC chairman wrote to the education ministry that on receiving reports of piracy in his research paper, the Quality Assurance Division had the issue investigated by experts who confirmed plagiarism.

HEC reviews formula for providing funds to varsities in the country

The division also reviewed another eleven papers by Dr Arshad and found plagiarism on a large scale, after which the panel recommended terminating his contract. To analyse all aspects the former HEC chairman formed another high-level committee so that requirements of justice could be fulfilled.

Vice-chancellors of major universities were included in this committee and Dr Arshad was given a chance to personally defend his case.

However, after plagiarism was again proven, the panel directed the then HEC chief to implement penalty, who then wrote to the education ministry that as he was about to complete his tenure, the recommendations should be implemented by the next chairman.

Meanwhile, in an important meeting of the HEC held on Saturday, the commission recommended execution of the commission's direction, which was to fire Dr Arshad. The HEC ED is believed to have caught air of the news and resigned from his post. According to sources, if his resignation is accepted, it will be tantamount to giving him a safe way out.