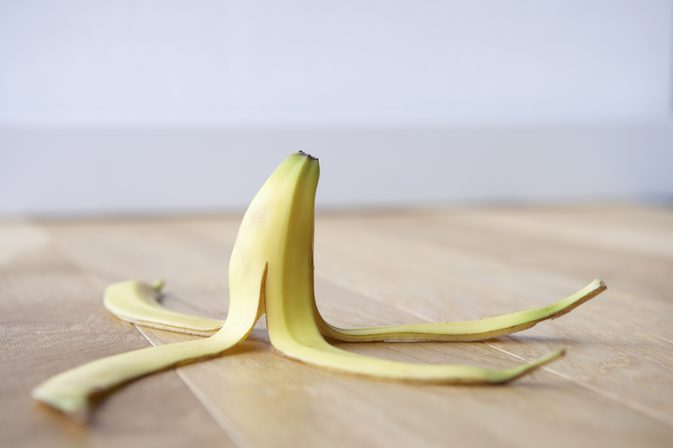 ---
Banana peels aren't really associated with much other than making people fall. However, these peels made of yellow goodness are more useful than you think. Compiled from Reader's Digest, here are 5 reasons you should stop throwing away your banana peels.

1. High in nutrition




Although they seem inedible, they're actually very nutritious and contain loads of vitamin B6 and B12, as well as magnesium, potassium, fibre and protein.

Wash the skins and boil them for at least ten minutes to soften up the texture. If you can't get yourself to eat them, just blend raw peels into a smoothie.

2. Keep meat tender




Next time you roast skinless chicken breasts, throw a banana peel into the pan before putting the meat on top. The peel will keep your meat from drying out it's tender when you dig in.

3. Polish your shoes




Potassium happens to be a key ingredient in shoe polish, which some say is why the peels make for a cheap cleaning hack. Get rid of any extra strings from the inside of the peel, then use the inside to rub your shoes. Then, buff your shoes with a paper towel and you are good-to-go.

4. Help your garden




Gardeners like to keep banana peels around for various reasons. Burying some cut-up peels with your plants will feed nutrients to the plants. As well as that, if you dig them an inch underground, the peel pieces will encourage pesky aphids to leave your garden alone.

5. Ease your pain




A Journal of the Medical Association of Thailand study found that banana peel extracts had anti-inflammatory properties. That could be why some say pressing the peel against a bug bite, poison ivy rash, or sunburn can provide some relief.

Have something to add to the story? Share it in the comments below.
COMMENTS
Comments are moderated and generally will be posted if they are on-topic and not abusive.
For more information, please see our Comments FAQ