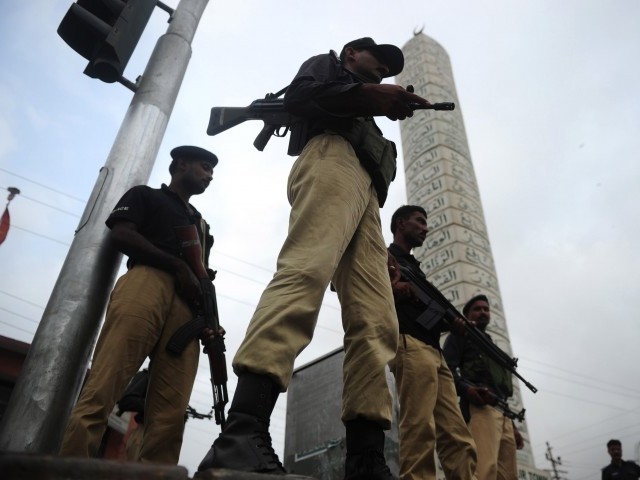 ---
KHANEWAL: A police constable lost his life while a suspect was killed during a shoot-out in Khanewal.

Police said that they received information about the presence of an absconding robber identified as Mumtaz Saho. The robber was a resident of Chak No 173 and was released from the jail a few days ago. In order to get hold of the deadly convict, Chab Kalan SHO Chaudhry Zulfiqar Gujjar formed a team of plain dressed policemen comprising of ASI Muhammad Nawaz, Constable Muhammad Iqbal and a police volunteer Javed.

As the raiding party tried to arrest Mumtaz Saho, his accomplices Shakil and others reached the spot and thrashed the police team. They also deprived Constable Iqbal of his weapon.

Haripur shootout: Capital police claims self-defence

This led to a scuffle between the police and the suspects. However, area residents tried to diffuse the situation and returned the constable's rifle after recovering it from the accused.

As the raiding party was leaving the area, the suspects opened fire on their vehicle, instantly killing Police Constable Iqbal.

Later, a heavy contingent of police was called to carry out the raid and nab the culprits.

When the police reached the spot, the outlaws opened indiscriminate on them and an encounter took place.

During the retaliation, accused Shakil was killed, while the others escaped under the cover of fire.

Notorious Lyari gangster Ghaffar Zikri killed in police shootout

A police official said that the suspect killed in encounter had a history of criminal record, and raids were being carried out to nab his accomplices. He revealed that accused Mumtaz was wanted to the police in 35 criminal cases which were registered in various police stations. He assured that the police would soon arrest the criminals.

Meanwhile, DPO Faisal Mukhtar lauded the efforts of the raiding team and said that the police would not hold back from laying down their lives for the safety of the citizens. He added the martyrdom of the cop had raised the morale of the Khanewal police.

Published in The Express Tribune, October 13th, 2018.