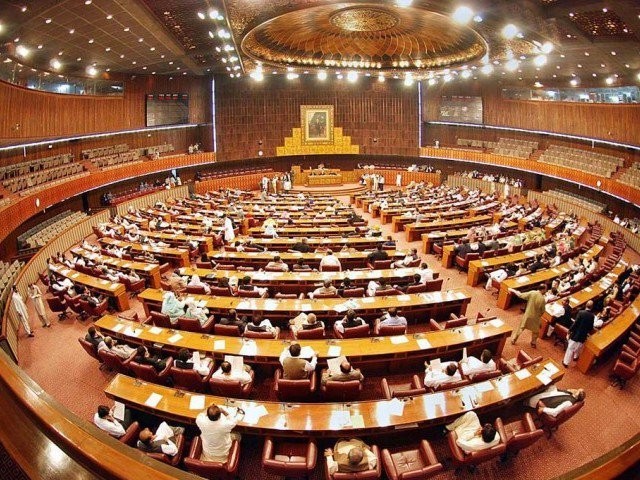 ---
ISLAMABAD: With black ribbons tied on their arms, members of the opposition on Monday criticised the ongoing accountability drive in general and arrest of Pakistan Muslim League-Nawaz (PML-N) President Shehbaz Sharif by the National Accountability Bureau (NAB) and accused government of executing a "well-thought-out plan" to weaken the parliament and democracy.

They also accused Prime Minister Imran Khan being hand in glove with the anti-graft body in witch-hunt of opposition and their political victimisation in the garb of accountability – an accusation vehemently rejected by government during the Senate session.

Strong-worded speeches delivered by the opposition members especially the one of JUI-F Senator Maulana Attaur Rehman – where he used unparliamentary words for PM Imran which were later expunged by Senate Chairman Sadiq Sanjrani – caused a rumpus that ruled the House until opposition staged a walk out for not giving enough time to them to talk over the issue.

Some opposition members were of an opinion the incumbent regime was using NAB for political vendetta which would not be allowed. It all started after the newly elected PTI Senator from Punjab Shahzad Waseem was administered oath.

Taking the floor, opposition leader in Senate Raja Zafarul Haq criticised arrest of opposition leader in NA and PML-N chief and termed it a "black day in the history of Pakistan's democracy". He said Shehbaz was summoned in one case and arrested in another adding his arrest had hurt all democratic forces in the country.

In his speech, JUI-F Senator Rehman used words "vagabond" and "terrorist" for PM Imran saying the PTI chief was still behaving like an opposition leader. Chairman Senate expunged his words and asked Rehman to tender apology – which he declined. It was at this time treasury senators intervened and demanded an apology from Rehman and supported the ongoing accountability drive amid expressing resolve that it would continue until arrest of all those who looted public money.

PML-N Senator Sadia Abbasi was of the opinion that Shehbaz was the only chief minister who overworked for 18-19 hours daily during his stint as Punjab CM and his arrest was nothing but to harass a strong voice for democracy.

Another PML-N Senator Gen (retd) Abdul Qayyum said financial corruption was only one facet and other dimensions which are equally lethal are judicial, moral and intellectual corruption and misuse of political authority for political gains.

"Witch-hunt and selective justice for political ends will erode public confidence in the viability of democratic system that we are following today," Qayyum said while demanding immediate release of the PML-N president.

Meanwhle, Leader of the House in Senate Shibli Faraz objected over conduct of the chair and said equal opportunity should be given to the senators from opposition and treasury benches.

PTI Senator Faisal Javed said that charter of democracy signed between the late Benazir Bhutto and Nawaz Sharif against military rules, was in fact a "charter of corruption". He said that both PPP and PML-N are hand in gloves to protect each other's corruption.

Later, the chairman Senate announced to give floor to information minister Fawad Chaudhry. But as soon the floor was given, the opposition objected saying minister could only wind up the debate once all opposition senators conclude their speeches.

At this point the opposition staged a walk out.

In a hurriedly delivered speech while the opposition was on its way out from the House, Fawad said PML-N had a history of harassing its political opponents and that now they were comparing ongoing free and fair accountability drive with the ones they conducted in the past.

He said PTI had promised no corrupt individual would be spared and government would fulfill its promise without any compromise. "If you are not guilty, why you make hue and cry when we talk of the plunderers and thieves who played havoc with national wealth and stashed taxpayers' money in foreign banks", he questioned.

Following opposition's walkout Senator Azam Musakheil pointed out the quorum leaving the chair with no option but to adjourn the house as quorum could not be completed despite ringing of the bells for well over five minutes.