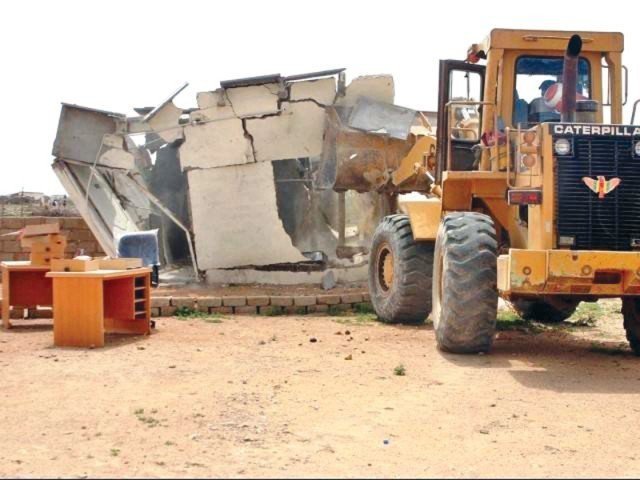 ---
RAWALPINDI: An anti-encroachment team faced tough resistance by some local people in Murree on Wednesday, forcing the officials to call off the operation for the time being.

At least 16 people armed with pistols, crew-bars and wooden staffs attacked the Rawalpindi Municipal Corporation anti-encroachment team. RMC Enforcement Inspector Murree Mohammad Sajjad had sent the team to remove the encroachment.

The anti-encroachment team comprised 80 employees of RMC and 23 personnel of Rawalpindi police. However, when they came to the Shawala area, more than a dozen people rushed up and blocked their way. They were holding iron bars, wooden sticks while few had pistols. After hurling verbal abuses, these people started pelting stones and fired shots in the air.

Anti-encroachment drive begins in capital

The Rawalpindi police, showing great restraint, did not open fire and pushed back the village folk with batons.

The miscreants than ran up a hill and started throwing stones from there while some also fired aerial shots. According to RMC, some of its workers were also injured after being hit by stones.

Anti-encroachment drive reviewed

The RMC team went back, while police have booked 16 people for resisting official work, display of firearms and aerial firing. Police have identified Yahya Abbasi, Waseem, Nadeem, Naeem, Faheem, Jamal and 10 other people and started raids to arrest them.

Early in January this year, Chief Justice Saqib Nisar had directed removal of encroachment from Murree. 

Published in The Express Tribune, October 4th, 2018.