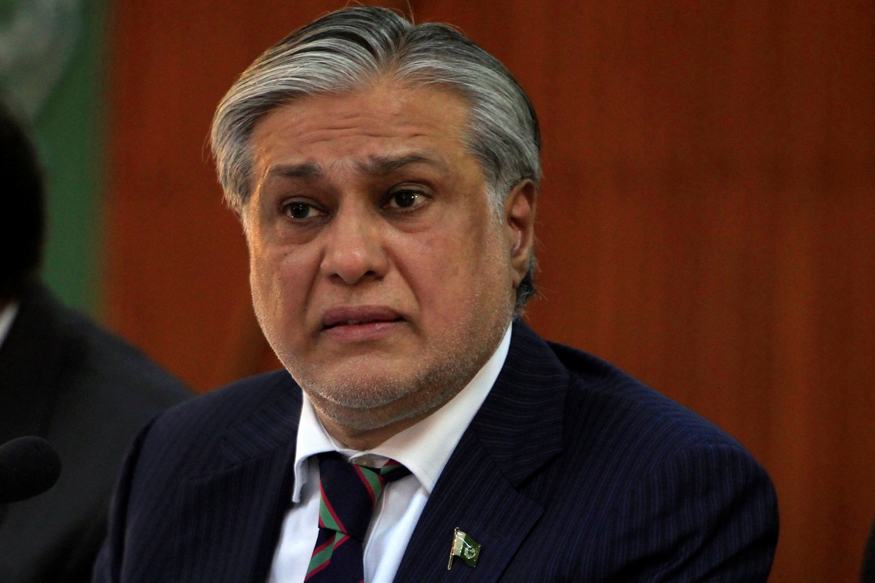 ---
ISLAMABAD: An accountability court has ordered authorities to auction former finance minister Ishaq Dar's movable and immovable assets and seize his bank accounts as he has not only failed to appear before the court but over six months have passed since the court attached his assets.

The court issued the order on Tuesday on an application of the National Accountability Bureau (NAB) seeking sale of Dar's assets and asking the court to appoint a 'receiver' who would collect and deposit the amount in the state treasury.

The order written by the accountability court Judge Muhammad Bashir said more than six months had elapsed since Dar's properties and bank accounts were attached but he did not show up.

"Accused Muhammad Ishaq Dar who was declared as proclaimed offender did not appear within the time specified in a proclamation, therefore, above said, property as well as bank accounts, shall be at disposal of concerned provincial government within the meaning of section 88 (7) CrPC," the judge wrote.

He said Dar's vehicles have not yet been taken into possession for the purpose of attachment and the investigation officer is directed to take possession of the vehicles and a compliance report be submitted for further orders in this regard.

Government issues red warrant to bring Ishaq Dar back

Judge Bashir had reserved verdict on NAB application on October 1 after the anti-graft watchdog submitted details of Dar's assets. The court is hearing NAB's corruption reference, filed in the wake of the apex court July 28, 2017 order, for Dar's allegedly having assets beyond known sources of income.

In supplementary reference, NAB also named the National Bank of Pakistan (NBP) president Saeed Ahmed and two other accused, Naeem Mahmood and Mansoor Raza Rizvi for their alleged involvement in 'aiding and abetting' Dar for a 91 times' increase in his assets within a short span.

In the application filed by NAB's prosecutor, Imran Shafique, under Section 88 of CrPC and sub-sections (2) and (3), the accountability body maintained that Dar was arrayed as an accused but fled the country without facing trial and ignored multiple summons and arrest warrants.

He recalled that court issued a proclamation under Section 87 of the CrPC and directed the ex-minister to appear at a specified time but the orders were ignored, hence, Dar has proclaimed an offender.
The application also stated that more than six months had passed but the accused had consciously refused to appear before the court. NAB's counsel further claimed that the accused 'faked an ailment'. "He has failed to justify his unavailability."

Verdict in Dar asset auction application reserved

According to NAB, some of Dar's properties were already attached by the court on November 2, 2017, while others remained beyond its jurisdiction. Therefore, the bureau sought orders for attachment and appointment of a receiver. Shafique requested the court to appoint a district officer to receive and deposit the amount in the treasury and for the state to take possession of Dar's movable assets.

Dar's asset details
The details submitted by NAB show ownership of six bank accounts in Lahore and Islamabad, 13 assets within Pakistan and seven assets/companies abroad. According to the list, Dar possesses two Mercedes Benz vehicles, three Land Cruisers and one Toyota Corolla.

His wife is the co-owner of one of the Land Cruisers. His properties include: two-kanal plot in the Parliament Enclave, another two-kanal plot with Ayaz Builders (Pvt) Ltd, six-acre land in Mauza Milot, a plot in Mauza Bhubtian and another plot in Senate Cooperative Housing Society. His wife is named co-owner of the six-acre land.

In Lahore, Dar owns a house in Gulberg and three plots in Alfalah Housing Society – co-owned by his wife and son. The assets located abroad include apartments at Emirates Hill and Jumairah in Dubai. He also owns a Bentley Arnage, a Mercedes and have two investments in Baraq Holding (Pvt) Ltd and one investment in Dar Al Nahayan (Pvt) Ltd.

The details further show Dar and his wife have made investment of Rs3,453,060 in Hajveri Holding (Pvt) Ltd and Rs2,700 in the Sui Northern Gas Pipelines Ltd.

'NAB details inaccurate'
Defence counsel Ayesha Hamid had termed NAB's details inaccurate during the course of hearings. She said the anti-graft watchdog had mentioned same plot twice – Parliamentarian Enclave in Islamabad. She also claimed that the land in Mauza Milot did not belong to Dar while the money invested in Senate Cooperative Housing Society had been retrieved.
COMMENTS
Comments are moderated and generally will be posted if they are on-topic and not abusive.
For more information, please see our Comments FAQ