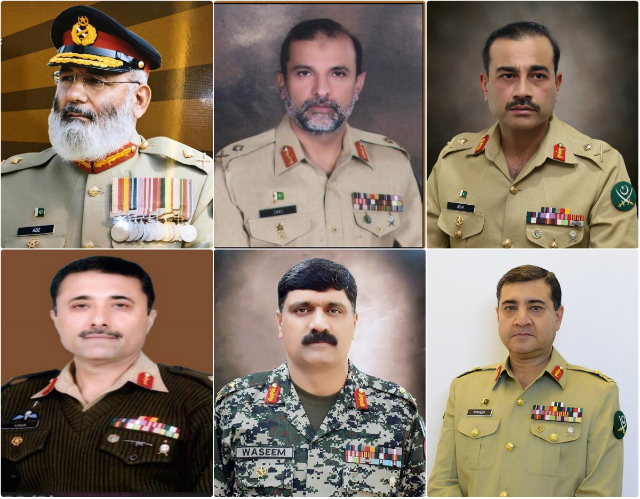 ---
ISLAMABAD: Ahead of retirement of five three-star generals -- including the current head of the ISI -- six major generals of Pakistan Army were promoted to the rank of lieutenant general, according to a statement issued by the Inter-Services Public Relations (ISPR) on Friday.

The military's media wing said that the promoted officers include Maj-Gen Shaheen Mazhar, Maj-Gen Nadeem Zaki Manj, Maj-Gen Abdul Aziz, Maj-Gen Asim Munir, Maj-Gen Mohammad Adnan and Maj-Gen Waseem Ashraf.

37 army brigadiers promoted to the rank of major general

The promotions were due since five Lt generals would retire next week -- including the current ISI chief Lt Gen Naveed Mukhtar, 11 Corps (Peshawar) Commander Lt Gen Nazir Butt, Commander of Army Strategic Force Command Lt Gen Mian Muhammad Hilal Hussain, Military Secretary at the GHQ Lt Gen Ghayur Mahmood and Training and Evaluation Inspector General Lt Gen Hidayatur Rehman.

It is expected that the promoted major generals would fill some of the vacancies fell vacant on the retirement of those officers. However, the appointment of ISI chief would be crucial as that would be made by Prime Minister Imran Khan.

Army chief General Qamar Javed Bajwa on Friday met the Prime Minister and discussions on the new ISI chief must have come under discussions. The current ISI chief was also in attendance. Usually, the army chief sends three names for the coveted slot and the prime minister has the authority to pick any one of them.

There were instances in the past where the ISI chief was given extension. However, it is not clear if the term of the current DG ISI would be extended.

In an anticipation of the major changes in the top brass, the army chief in late August also approved major reshuffles changing at least one third of the corps commanders.