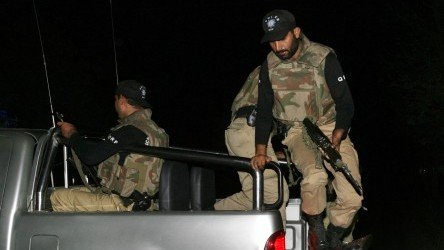 ---
LAHORE: Two terrorists who are suspected to have mounted attack on Lahore's Jinnah Hospital on Monday have been arrested from Muridke. Moreover, police have rounded up more than 375 suspects from various parts of Lahore.

The two terrorists were located with the help of their mobile phones. Following their arrest from Basti Rian Pura of Muridke, police have shifted them to an undisclosed place.

Documents, identity cards and fire arms have also been recovered from their possession. According to SSP operations, their names are Sajid and Irfan.

According to Express News, one terrorist was in the Mujahid Force uniform while the other had a bullet injury on his leg. According to sources both were arrested while they were travelling on a motorcycle at 1 am.

Meanwhile, Constable Ghulam Muhammad who had been injured during Monday night's attack, succumbed to his injuries on Tuesday, while six other injured are said to be in critical condition.

The loaded rifle of a constable on duty at the ICU was triggered accidently on Monday, injuring security guard Hasan Raza. It caused chaos in the hospital and many wards were evacuated.

The terrorist, Muaz, who was in the hospital for treatment, was shifted to Kot Lakhpat jail hospital amid tight security.

The situation at Jinnah Hospital was tense on Tuesday as different rumours about Monday's attack circulated among staff and patients.

Doctors and patients in the emergency ward, the eye ward and the ICU, the areas mainly affected by Monday's attack, were nervous as they went about their duties.

Although most people had no access to the ICU, attendants along with patients in adjoining wards visited the area all the day to look at the bullet marks that scarred the front wall of the intensive care unit.

The situation was worsened by a rumour that the hospital had received a bomb threat. One ICU nurse confessed that some of her colleagues had gone on leave after the attack. She said her own family tried to prevent her from going to work on Tuesday. However, she said that no patient from the ICU ward had opted to leave the hospital.

A large number of people had come to the hospital early in the morning on Tuesday in an attempt to inquire after loved ones who were receiving treatment in various wards.

The funerals of two of the four policemen killed were held at Qila Gujjar Singh Police Station on Tuesday. One of the slain policemen named Mohammad Zulfiqar belonged to Kasur, while the other belonged to Kot Lakhpat in Lahore.

The body of the third CIA policeman Ishtiqar Nazir has been sent to his native village in Manga Mandi. The fourth policeman, Ghulam Ahmed, succumbed to his injuries on Tuesday morning.

Published in the Express Tribune, June 2nd, 2010.
COMMENTS
Comments are moderated and generally will be posted if they are on-topic and not abusive.
For more information, please see our Comments FAQ