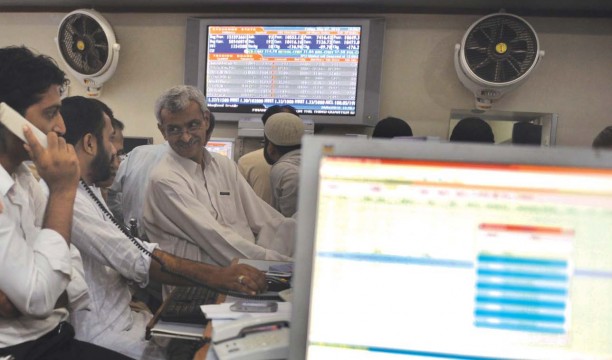 ---
KARACHI: The benchmark KSE-100 index decreased 32 points to close at 9,294.18 points on Tuesday which was the lowest level of the market this year.

The Karachi Stock Exchange (KSE) 100-share index fell 0.35 per cent in trading on Tuesday.

The market witnessed a considerable decline of 162 points with low volumes in the first hour of the trading session but recovered on the back of foreign buying in Oil and Gas Development Company (OGDC), said analyst at JS Global Capital, Sameer Danawala. OGDC closed at Rs133.73, up by 1.8 per cent.

Activity increased and volumes rose by 57 per cent to 95 million shares in comparison to the previous trading session and the market regained some of its early losses as investors bought shares when the index went below 9,200 points.

An analyst at Elixir Securities, Sara Shahid, believes, however, that the recovery of the market was due to a rumor of Foreign Institutional Investment in OGDC and supposed selling in Engro.

Analysts said that investors remained cautious ahead of the 2010/11 budget, due to be announced on Saturday. The last time the KSE-100 ended near this level was on December 21, 2009 when it closed at 9,233.60 points.

"The day's trading was marred by rumours of impending defaults by some stock market investors as well as a possible delay in budget announcement by a week, which added to the jitters," said Shahid.

"Market opened with selling pressure across the board but some institutional buying was seen at lower levels," said an analyst at Topline Securities, Furqan Punjani. He believed that this shows that sentiments are improving and that the market has been priced in the negative on the back of the upcoming budget.

As part of its new budget, the government is expected to impose a Capital Gains Tax on the purchase of stocks made on or after July 1.

Trading was mixed for most of the day. Out of the 397 stocks which were traded during the day, 111 were up, 266 were down. The price of 20 stocks remained unchanged.

Pakistan State Oil and Attock Petroleum witnessed a decline after the government reduced petroleum product prices, said investors. However, the impact from inventory losses remained marginal. Decline in APL was fueled by news regarding the investigation related to investments few years back.

JS and Company problem is continued with the stock having fallen nearly 65% so far this year and remained under tremendous selling pressure that only further dampened market sentiment, said Shahid.

Long term investors should continue to pick stocks like Pakistan Oil Fields, Pakistan Petroleum Ltd, Pakistan State Oil, Hub Power Company, Fauji Fertilizer Bin Qasim and Fauji Fertilizer Company, according to analysts at Elixir Securities. As they do not expect that the budget will implement any measures that will affect these stocks negatively.

Volumes were lead by JS and Company, Lotte Pakistan and Pakistan Telecommunication with 11.6 million, 9.9 million and 6.0 million shares traded respectively.

Engro Corporation Limited remained under pressure throughout the day and the share closed at Rs166.35 down by 3.8% with 2.1mn shares traded.

Published in the Express Tribune, June 2nd, 2010.
COMMENTS
Comments are moderated and generally will be posted if they are on-topic and not abusive.
For more information, please see our Comments FAQ