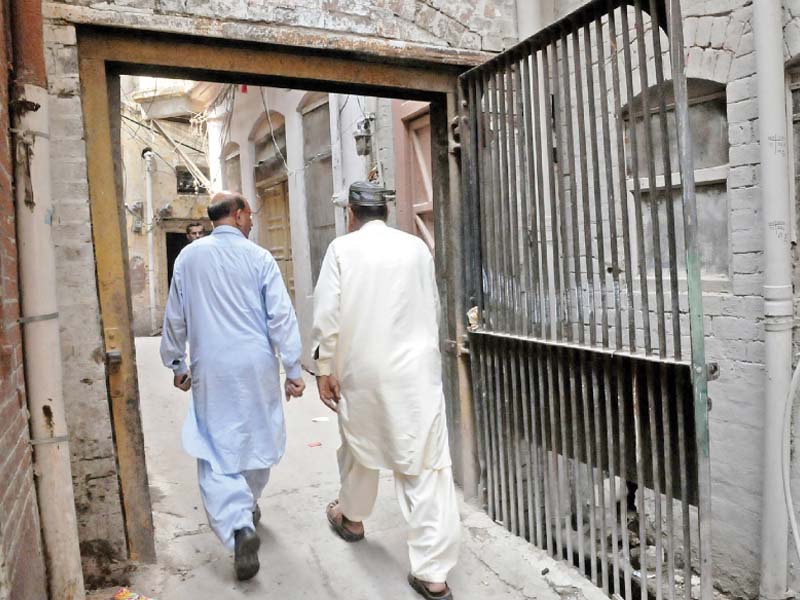 ---
RAWALPINDI: In the heart of the old city area of Rawalpindi is an over 230 year old locality the Bhabra Bazaar. Named after the rich Bhabra community that owned the almost two square kilometre patch of the town it still has a number of old buildings intact which speak of the regal past of the area. The gated community secured from four entrance and exit points has many small lanes that open on to the main bazaar.

Today, the Bahabra Bazaar is a 20 feet wide and 2km long stretch of commercial area that extends from Muree road to Sarafa Bazaar, the hub of gold and jewellery trading.

Guided by local people Daily Express team went inside the catacomb of lanes in the ancient Bhabra Bazaar.

The old gates are present till today which had been installed with great strength over two hundred years ago to secure the then moneyed class of the city. Though the buildings are ancient now yet its radiance is visible to this day.

The winding narrow lanes takes a visitor to the days of yore when these buildings were young and housed a bustling community of goldsmiths and gem traders. The quality of wood and stained glasses in the windows speak of the opulence of the past residents.

The wooden facades of these old structures, the doors and balconies are so exotic that people to this day bring furniture experts here to copy the design.

No old community of rich and famous can be imagined without some tunnels and dungeons. The Bhabra Bazaar too had an underground network of tunnels to allow escape passage to its goldsmiths and gem traders.

Among these two large tunnels that are spread over a few kilometres are still intact. However the tunnels of the Subhan Singh building have been closed some years ago due to risk of caving in.

Fertile Ground

The close knit community of Bhabra Bazaar is famous for sharing and caring for each other. The proximity of homes brings people closer and creats a melting pot of ideas, cultures and religions.

This area is also famous for being birthplace of many famous personalities. MQM founder Altaf Hussain was born in Bhabra Bazaar and spent his childhood here till his primary education.

His friend Rana Mehtab who studied with him till primary told talked about the good old days he had spent with Altaf dashiong around the lanes. He never thought Altaf would grow up to be like this.

Famous news caster Azhar Lodhi, Asian games' gold medalist Muneer Sadiq and Mamoon Siddiq also used to live here.

Among the relics of Bhabra Bazaar is the Beri Wali Masjid which has produced many well-known religious scholars. These include the central leaders of the Jamaat Ahle Sunnat Hussainul Din Shah, Allama Riaz Hussain Shah, Allama Ghafoor Hazarwi and MSF president Babar Awan.

Do Manzila Masjid (Double Storied Mosque) is also nearly 100 years old. Maulana Abdul Waheed is leading the prayers here for the past 70 years.

Home to transgender people

The area is also home to a large community of transgender people living here for over a century. One of their grand-guru was considered a saint. Baba Irshad was a pious transgender who regularly offered prayers five times a day and fast in Ramazan just like all other Muslims. People used to visit him to seek blessings.

Food and commercial hub

The 20 feet wide and 2km long stretch of Bhabra Bazaar is concentrated with food outlets serving delicacies for decades.

Chat, Pehalwan Kheer and Majeed Nihari continue to serve foodies. Some milk and yoghurt shops have existed at the same place for the past one century.

This place is also a centre of the sale and manufacture of kites and strings, besides the local top, known as latoo.

Further up the road, motorcycle parts shops abound. The speciality is the workshops offering custom designs on motorbike fuel tanks.

However, the smell of oil and paint has damaged the environment making it difficult to breath.

Like all other places, encroachment is a major issue. Shop have extended beyond limits, while pushcarts have also occupied space making it difficult to even walk in the market.

The encroachment and decaying power lines are some of the major issues people of Bhabra Bazaar face.

Published in The Express Tribune, September 13th, 2018.
COMMENTS
Comments are moderated and generally will be posted if they are on-topic and not abusive.
For more information, please see our Comments FAQ