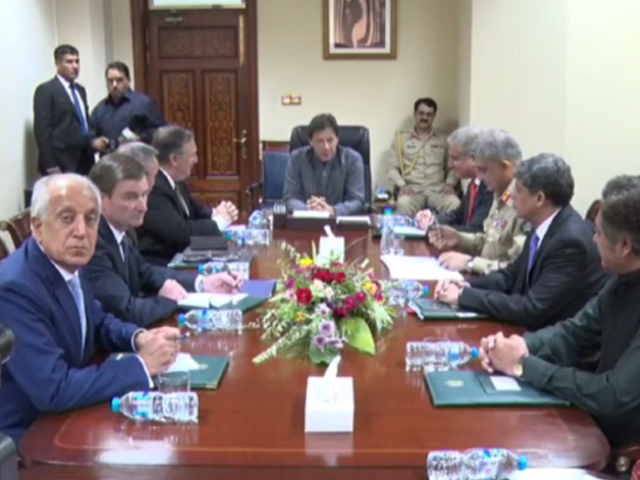 ---
Prime Minister Imran Khan expressed confidence on Wednesday that he could 'reset' fractured ties with the United States.

The premier's comments came after he met US Secretary of State Mike Pompeo. "I'm a born optimist. A sportsman always is an optimist. He steps on the field and he thinks he's going to win," Imran told a reporter who asked him if he thought he could reset the two nations' bilateral ties

Both Imran and Pompeo struck a positive tone after the meeting, with the latter also expressing hope to reset relations. "We talked about their new government, the opportunity to reset the relationship between our two countries across a broad spectrum, including business ties and ending the war in Afghanistan," he said.

PM Imran, Pompeo discuss 'aid' suspension, Afghan peace

Foreign Minister Shah Mehmood Qureshi also sounded positive claiming 'forward movement' after the US diplomat flew out.

"In all meetings, Secretary Pompeo emphasised the important role Pakistan could play in bringing about negotiated peace in Afghanistan, and conveyed the need for Pakistan to take sustained and decisive measures against terrorists and militants threatening regional peace and stability," a statement issued by the Embassy of the United States read.


REPORTER: Are you confident you can reset the relationship with the U.S.?
PM KHAN: I'm a born optimist. A sportsman always is an optimist. He steps on the field and he thinks he's going to win.

Pompeo Holds Talks in #Pakistan on Resetting Troubled Tieshttps://t.co/lIpOrFJjS5 pic.twitter.com/9wLgXTwxZe

— Voice of America (@VOANews) September 5, 2018


Pompeo, accompanied by Chairman of Joint Chief of Staff General Joseph Dunford and Trump's special envoy Zalamay Khalilzad, first held talks with the foreign minister and then met the prime minister. Pompeo also held a separate meeting with army chief General Qamar Javed Bajwa.




The visit took place against the backdrop of simmering tensions between the two countries as the US cancelled $300 million 'in aid' to Pakistan in the days leading up to Pompeo's trip.

"Today's visit has set the stage for resetting the ties and the impasse in the relationship has been broken," Qureshi told a news briefing on Wednesday. He said the two sides had a 'candid and open discussions' and concluded the solution to the Afghan problem would be reached through dialogue.




"This is the position Imran Khan has been advocating for years. It is a welcome development that the US has expressed readiness for direct talks with the Taliban," he said.

Impasse in Pak-US ties broken in talks with Pompeo, says FM Qureshi

He said Secretary Pompeo's visit also dropped a clear hint that the US had no plans to stay in Afghanistan forever, something that might dispel fears that Washington wants to extend its stay in the neighbouring country to keep a check on China and Russia.

The foreign minister accepted the invitation of Secretary Pompeo to visit Washington to take discussions forward. Qureshi also confirmed he would soon undertake a visit to Afghanistan at the invitation of his Afghan counterpart. "The future of Afghanistan and Pakistan is interlinked," he stressed.


COMMENTS
Comments are moderated and generally will be posted if they are on-topic and not abusive.
For more information, please see our Comments FAQ