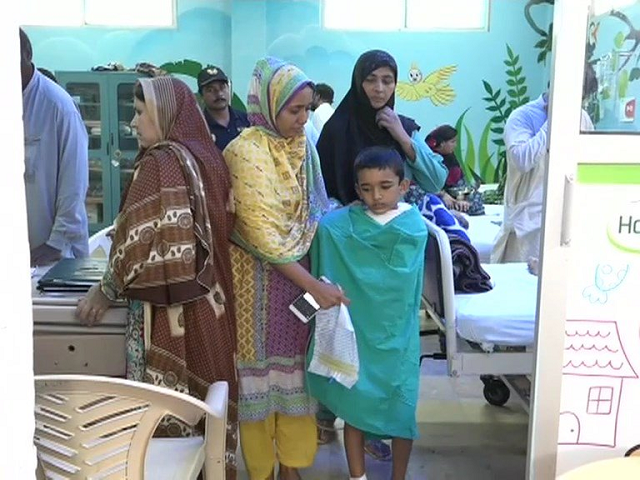 ---
KARACHI: K-Electric has refused to take any responsibility for the electrocution of eight-year-old Muhammad Umer from a falling high tension wire which led to the amputation of both his arms.

However, K-E abstained itself of its responsibility and said it was not responsible for the incident.

Both arms of Umar had to be amputated after a high-tension wire of K-Electric fell on him outside his home on the third day of Eidul Azha.

When the wire fell on Umar, he tried to use his other hand to try and remove the wire, but the high voltage quickly gripped his body and caused severe burns on both arms.

K-Electric under fire as child loses arms to high tension wire

According to the family, Umar was on his way to get groceries when the incident took place. Umar's parents rushed him to the Burns Center at Civil hospital where he underwent an hours-long surgery. While the doctors were successful in saving the child's life, both his arms had to be amputated.

K-E spokesperson said, "As per preliminary investigations, the incident was a consequence of the pervasive kunda wires to extract power through illegal infrastructure by some other elements where this unfortunate incident took place and the innocent child got injured."

Meanwhile, another similar case of a child, Haris, 11, losing both arms as a result of getting electrocuted by high tension wires surfaced on Friday. Haris has been admitted to Civil hospital for the last month. His father, Abdul Qayyum, who is a rickshaw driver, said that his son was playing on the roof on July 25 when he slipped and got tangled up with the high tension wires. Haris was shifted to the hospital and the doctors successfully managed to save his life but had to cut off both his arms. He has spent the last month in the Burns Centre under treatment.

Qayyum said he was poor and clueless on who to contact. He pleaded for help for his son's treatment. He said the doctors told him that Haris needed to be shifted to a private hospital for the procedure.
Civil hospital's Dr Taufiq said arms of both boys had to be cut off to save their lives as the infection would've spread to the rest of their bodies.

Doctors said both children will get prosthetic arms but the procedure is complicated, time-consuming and expensive.

Umer is still admitted at the burns ward. His father said that no government or K-E representative has contacted their family yet. However, in his absence, a K-E representative did come and speak to his wife and instead of offering some sort of apology or treatment; he claimed that according to K-E's findings, her son Umer was playing with live wires which resulted in the fatal accident.

When Umer's mother inquired if it wasn't K-E's responsibility to install the live wires back on top of an electric pole, the representative left without even telling his name.

Umer's father said K-E was hurting them more, instead of admitting its fault. He said there were numerous eye witnesses who separated Umer with the help of wooden sticks.

Three siblings electrocuted in Punjab

He once again appealed to the chief justice of Pakistan, army chief and the prime minister to take notice of this incident and deliver justice to them.

Umer's mother, sobbing uncontrollably, said she has heard that her son can get prosthetic arms attached abroad and pleaded for help.

Seven K-E staffers arrested

Meanwhile, SITE Super Highway Industrial Area police arrested seven K-Electric staffers under Section 337 during a raid at the power utility's Gadap Town office over negligence which led to the amputation of a minor's arms.

The investigation department in-charge at the SITE Super Highway police station, Chaudhry Nazeer, told the media that the arrested men include Matter and Installation Commercial Area Deputy Manager Saeed Ahmed, foreman Muhammad Mushtaq, new connection supervisor Mirza Asif Baig, meter checker Asif Iqbal, BOE new connection Saqib Hussain, meter cluster Syed Haider Raza and Assistant Engineer Cluster Syed Muhammad Asim.

Nazeer said the arrested were among the technical officers and staff of K-E, adding that raids were being conducted to arrest the power utility's regional director, director-general and other officers. He said they were not present in their offices and had "escaped".

The arrested men will be presented in court today (Saturday).

Case registered

Police registered a case against K-E's Gadap Town management after recording the statement of the Umer's father on Thursday.

The case was registered on complaint of Umer's father. SHO Humayun Khan said the K-E's Gadap Town management, whose negligence was the cause of this incident, has been nominated.
Nazeer said a case was registered under sections of negligence, waste of human organs and suspects are liable to six to seven years of jail term.

"Whoever is responsible for the incident will be arrested," he assured.

Adjournment motion submitted in Sindh Assembly

An adjournment motion was submitted in the Sindh Assembly against K-E. The motion was passed on Friday by Muttahida Majlis-e-Amal MPA Abdul Rasheed. Its states that Surjani's Umar and Haris were this nation's children and their futures were ruined by criminal negligence by K-E as the power utility hasn't conducted maintenance on wires for a long time. The motion also states that action should be taken against K-E and the medical care and expenses of the two boys should be taken care of by K-E.