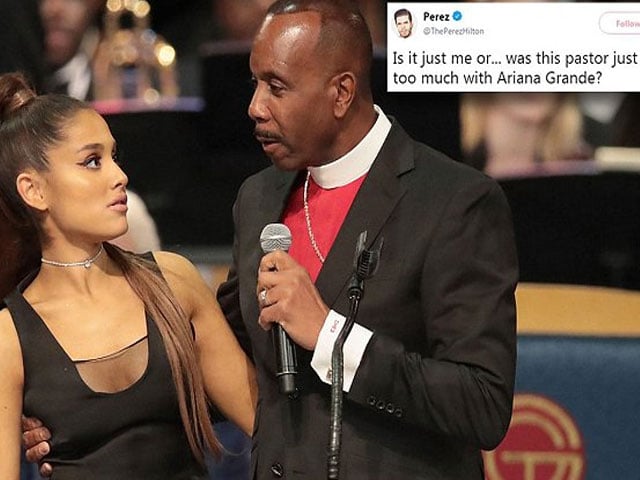 ---
Late singer Aretha Franklin's funeral service was marred with controversy after the bishop reportedly groped American singer Ariana Grande during the ceremony.

Bishop Charles H Ellis III led Franklin's funeral and awkwardly greeted Grande on stage after she performed Franklin's hit number (You Make Me Feel Like) A Natural Woman. Images of the moment showed Ellis holding Grande well above her waist, with his fingers pressing against one side of her chest.


The awkward exchange between Grande and the pastor have left some viewers feeling uncomfortable.




Ellis allegedly grabbed Grande around her rib cage as he attempted to share a 'dad' joke with the audience.




"When I saw Ariana Grande on the program, I thought that was a new something at Taco Bell," he said as the crowd erupted into laughter.




Grande shared her own embarrassed laugh and appeared to be uncomfortable while in his grip. "Girl, let me give you all your respect," Ellis continued, hugging Grande. "Did y'all enjoy this icon? She's an icon herself."




Social media instantly took note of the inappropriate joke but focused more on the uncomfortable positioning of Ellis' hands. Perez Hilton said, "Is it just me or... was this pastor just a bit too much with Ariana Grande?"




Twitter was outraged.



Ariana came to show love to Aretha and celebrate her legacy and she got sexually assaulted and blasted for wearing a dress too short for other peoples liking...#RespectAriana pic.twitter.com/1v4HoIdeDD

— Ken (@Sweetnerotw) September 1, 2018


https://twitter.com/WeCamila1/status/1035742703831543808


1)Ariana wore a short dress. It doesn't make it INAPPROPRIATE or SLUTTY
2)DO YOU KNOW HOW UNCOMFORTABLE AND EMBARRASSING IT IS TO BE SEXUALLY ASSAULTED IN FORNT OF A ROOM OF PEOPLE LET ALONE LIVE TV
3)STOP VICTIM BLAMING. IT'S CRAZY THAT PEOPLE THINK THIS WAY #respectAriana

— 𝒻𝒶𝓉 𝓅𝓊𝓈𝓈𝓎 𝓂𝒾𝓁𝑒𝒶𝑔𝑒☆•°*.♡PINNED TWT💔 (@JENRlANAS) September 1, 2018
#RespectAriana is tending worldwide right now because Bishop Charles H. Ellis III was seen inappropriately groping Ariana Grande on live tv during Aretha Franklins funeral.

Men really need to get their sh*t together pic.twitter.com/AEqr7aAi1m

— saige. (@seasonedwsaige) September 1, 2018
She CLEARLY looked uncomfortable. I can't believe some would expect her to defend herself on live TV one someone else's funeral. Her dress had nothing to do with anything. What women wears will never be an invitation for assault, she never asked for it #RespectAriana

— ona 🌾 (@ilsansqueen) September 1, 2018
Bishop Charles H. Ellis III belittled @ArianaGrande, suggesting she was a Taco Bell menu item, while physically locking her in awkward embrace and squeezing her breast. This has nothing to do with what she's wearing and everything to do with his shameful refusal to #RespectAriana https://t.co/KEbxaeUIdj

— Kate Woodsome (@kwoodsome) September 1, 2018


https://twitter.com/imgagasholyfool/status/1035754194202841088


this is absolutely disgusting. no woman or person should ever be treated like that. poor ari looks so uncomfortable and frightened. women are not "toys" we are people, actual human beings too. women should be able to dress how they want without bad consequences #RespectAriana pic.twitter.com/63zr4pvS6G

— 𝘢𝘥𝘳𝘪 ☁️ (@DIORCH4N) September 1, 2018


The bishop has since apologised to the singer.

Have something to add to the story? Share it in the comments below.