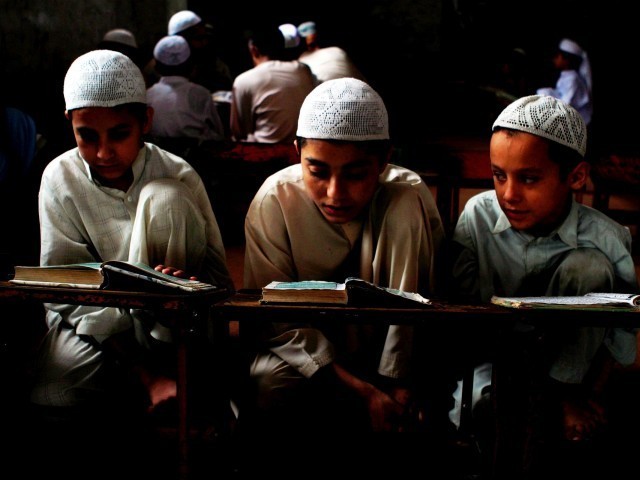 ---
ISLAMABAD: All the federating units of Pakistan and Islamabad Capital Territory (ICT) seemingly have 'miserably' failed to accomplish the registration of religious seminaries.

However, the government of Azad Jammu and Kashmir (AJK), Gilgit-Baltistan (G-B) and to some extent the tribal belt of Khyber-Pakhtunkhwa have made substantial progress with regard to registration of madrassas.

A couple of years ago, the National Counter Terrorism Authority (NACTA) had formed a uniform registration and data form for the registration of madrassas across the country. However, despite the lapse of more than two years all four provinces are still at the preliminary stages.

According to official documents, the K-P government is facing delays in the registration process over a few reasons.  The provincial government made a change in Rules of Business and placed registration of madrassas under the education department. The process of registration as per the new form was initiated but due to reservations of Ittehad-e-Tanzeemat-e-Madaris Pakistan (ITMP) and capacity issues, it is facing delays. ITMP is an umbrella of the five schools of Islamic jurisprudence.

Meanwhile, a new directorate is being established by the government of Punjab, which claimed to have completed collection of data as per NACTA directives. However, it promised to share this data formally connection only after the mentioned directorate is established. Balochistan is the only province which is yet to share any detail of data in this connection and make progress report over the topic.

K-P govt hesitant to enforce madrassa registration

Similarly, in Sindh, a special branch of the police was tasked with registration of religious seminaries. However, due to strong resistance and non-cooperation from these institutions, registration could not be completed and is still lingering.

In AJK, the regulation and registration of Madaris was carried out by the religious affairs department. There are 928 registered religious seminaries in AJK and geo tagging of those have already been completed.  In FATA a total of 689 Madaris are registered with the Directorate of Education while, a total of 200 new seminaries have been registered as per NACTA forms.

Police investigating militant links after blast at Karachi seminary

The registration and data form of the NACTA is a comprehensive document which covers almost each and every aspect pertaining to Madaris.

The seminaries are required to provide basic information including name of the religious seminary, its complete address, sect, telephone and email address, its branches, the detail of building in which the seminary is setup and others.

The form also carries column regarding details of foreign teachers and students, if there are any besides having column of the number of male and female student in it. The institutions have been made bound to provide details of 'source of income' besides giving the information about the bank account.
COMMENTS (1)
Comments are moderated and generally will be posted if they are on-topic and not abusive.
For more information, please see our Comments FAQ