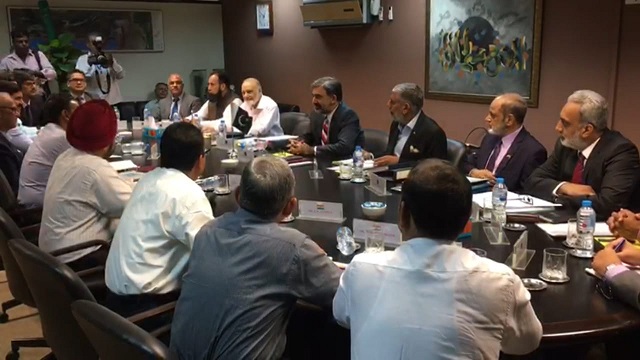 ---
LAHORE: Pakistan has not only voiced its concerns but also laid out its demands to India in the first round of two-day water talks between the two countries in Lahore on Wednesday.

Pakistan's Indus Water Commissioner Syed Meher Ali Shah conveyed to the Indian delegation its demands over the reservoirs constructed on River Chenab, as well as, the designs of the hydroelectricity projects.

Islamabad has voiced its concerns over the designs of 1,500 megawatt Pakal Dul dam and 45 megawatt Lower Kulnai dams which are set to be constructed on River Chenab.

Shah has made it clear that the design of the projects are in direct violation of the Indus Water Treaty to which both countries were signatories back in 1960.

Pak-India water talks commence in Islamabad

Moreover, Islamabad presented documents to prove that the designs are in violation of the Sindh Taas Agreement.

The Indian side has assured Shah that Pakistan's concerns would be conveyed to its government.

After the meeting came to an end, the Indian delegation went to a dinner hosted by the Indian Commission at at local hotel.

The delegation will also pay visits to Gurdwara Sahib in Lahore along with the Minar-e-Pakistan.

The second round of talks will be held tomorrow.
COMMENTS
Comments are moderated and generally will be posted if they are on-topic and not abusive.
For more information, please see our Comments FAQ