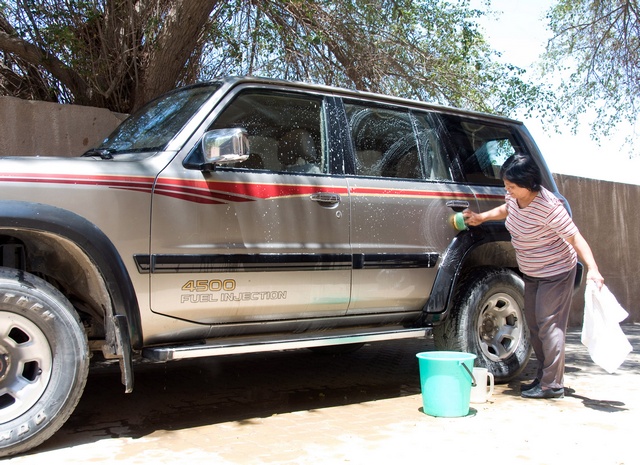 ---
KARACHI: Car wash service stations have become a major source of water wastage in Karachi. The car wash business is growing rapidly due to the increasing number of cars in the city. In addition to car wash facilities at petrol pumps, car wash facilities have also propped up  in various parts of the city.

Over 80% of the car wash stations use sweet water while the remaining rely on underground water obtained through boring. There are four million registered vehicles in Karachi and most of the new cars avail car washing services. Of the registered cars, around 10% comprise newer models that avail car washing services at least twice a month. On average, these cars require an uninterrupted water supply for ten minutes which requires approximately 450 litres.

Large car wash stations in Karachi number at around 3,000 which include both petrol pump car wash stations and independently operated facilities. An average car washing station serves between 10 to 12 cars every day, making up about 0.1 million cars in a month thus consuming or wasting about 45 million litres of water.

There is no regulatory framework for service stations in Karachi. This has opened up opportunities for various authorities including Karachi Water and Sewerage Board, police, and municipal corporations to mint money.

Service stations generally have special billboards saying that they use sweet water and claiming that it does not affect the colour and shine of the car. The stations which use sweet water are laden with large-sized compressors and suction pumps. Since most car wash stations operate within residential communities, their heavy-duty suction pumps deprive the residents of the line water. Surprisingly, car wash stations are on the rise amid growing scarcity of water in the city. Towns and neighbourhoods with even very  limited water supply are not spared.

Former BA speaker vows to overcome Gwadar water shortage

Water-starved citizens of Karachi have appealed to the authorities to restrict operational days for car service stations to help reduce water wastage. Car service centres should be shut for two to three days in a week, demand the citizens while calling for commercial pricing and tax levies on stations which use line water.

However, it's not just big businesses that are part of the problem. Water is also wasted by over 50% of the citizens who wash their cars at homes. Most citizens take advantage of their weekends and wash their cars on Sundays. Careless use of water for a car wash is a regular feature on many streets. While, many parts of the city suffer for want of water, thousands of gallons of water is carelessly wasted to wash cars.

In addition to cars meant for home use, the city also has thousands of rickshaws which are washed in makeshift bus or rickshaw stands. Washing of the rickshaws is often contracted to designated specialists who use boring water in relatively small quantities. In addition, commercial vehicles and public buses are also washed on a weekly basis. Buses and coaches generally washed on stations or stands also make use of line water.

Besides, millions of motorcycles are also becoming a source of water wastage in the city. Many motorcyclists make use of washing services on a weekly basis. In addition to designated spaces in car wash stations, bike washing stands can be found in various markets as well.

The other side

Car and motorcycle washing points in busy markets and commercial centres in the city are a source of earning for many youngsters. Thousands of young people from different cities earn their livelihood by washing cars. Cars are also washed in parking lots of commercial centres including those located at II Chundigarh Road, Shahrae Faisal, MA Jinnah Road, Numaish and Clifton. Most of the workers are employed on monthly wages and operate without a proper service station. They clean the cars using buckets of water, dusting accessories and wipers. Some workers also make use of sweet water obtained from main lines. A typical parking lot worker usually manages about ten to fifteen cars a day. According to a car wash worker at II Chundrigarh Road, parking lot cars do not require much water. "Only the outer parts of the car are cleaned with a wet cloth while water is only used to wash the tires," he said.

UoB, Planning Commission join hands to address water shortage

The areas of Clifton and Numaish are full of such parking lots where about 30 to 40 workers are always available for the job. A one-time car wash service in these places costs around Rs200 to Rs300. Like commercial places, residential communities also have skilled workers who wash cars in return for a monthly income. In many residential neighbourhoods, such workers start their job right after Fajr (dawn prayers). Most of the cars are only dusted or wiped with a wet cloth while a complete wash involving a few buckets of water is made once a week.

Despite the quantity of water being wasted in the activity, this lucrative business is booming. In fact, with time, car washing services have become modernized. Educated youngsters are making use of the internet to provide car services. Several online companies have emerged that make use of social media platforms such as Facebook to offer car washing services at consumers' doorstep. In addition to car washing, these young entrepreneurs offer related maintenance services including engine oil change and polishing.

These companies charge three to four times more than the traditional car service stations but offer highly satisfactory services. They also provide related maintenance parts and add-ons such as engine oil and filters. The modern car washing companies also have expert mechanics on board who have the specialized skills needed for repairing and maintaining high-priced, imported and automatic cars. These services are usually demanded in posh areas of the city.


COMMENTS (2)
Comments are moderated and generally will be posted if they are on-topic and not abusive.
For more information, please see our Comments FAQ