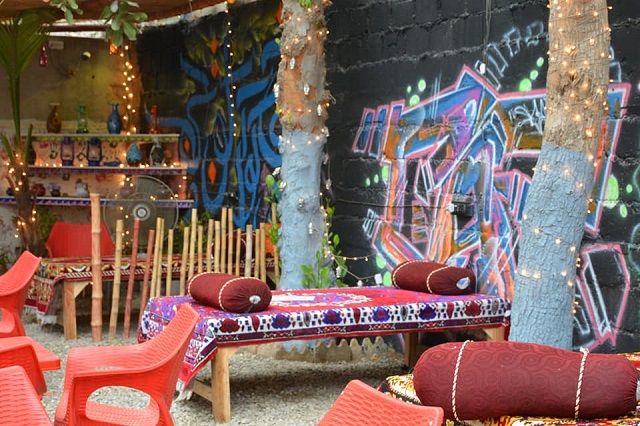 ---
KARACHI: Away from the hustle and bustle of North Nazimabad's commercial centres and traffic, Café Commune in the secluded lanes of Block J, has opened its doors to a part of Karachi that has long been starved of such progressive spaces where literates, musicians and artists can showcase the city's artistic, cultural and literary highlights.

Located near Sakhi Hassan Chowrangi, Café Commune is housed in a bungalow as an open-air café with an artistic ambience, a library and community space inside the building that seeks to attract visitors of all ages and backgrounds who are encouraged to organise musical events, screen films or even showcase their artwork.

Saad Rabbani, 27-year-old activist and co-founder of Café Commune, while speaking to The Express Tribune said, "People used to trust each other compared to the situation we see today. It might sound idealistic but there was a time when it was common to have neighbourhoods in Karachi which weren't gated like they're now."




Rabbani believed one of the biggest problems Karachi faces is the rise of intolerance and extremism, where the once inclusive values and hospitable culture of the multicultural oasis are being eroded by an atmosphere of distrust, sectarianism and violence due to an absence of dialogue between different communities of the metropolis.

For Rabbani, who has worked across Karachi with different communities, especially marginalised communities, Café Commune provides a solution to one of our most pressing societal problems - the lack of inclusive spaces that can promote inter-community harmony.

CCP issues notice to Lahore-based cafe for selling Starbucks coffee

Commenting on the inspiration behind establishing the cafe, Rabbani said, T2F was the true inspiration behind Café Commune. He was inspired by the idea that inspired Sabeen Mahmud and that is to have spaces where communities can be brought together.

"If we start communicating with the people around us, we eventually realise that there isn't much conflict between us and them," he emphasised.




Rabbani grew up in North Nazimabad, but in a suburb of nearly one million people, he wasn't able to find any community space or library where art, culture and literature were being promoted and the general public could join without any formal membership.

"We are trying to build a space where there is acceptance; we hope this space can be like a home away from home. We desperately need such spaces where local musicians, writers and artists can promote their work,"

Receiving a positive response in the two weeks since Café Commune opened, Rabbani is hopeful such a response will continue. His team has already organized mushairas [poetry sessions] and qaawali performances open for the general public.

In future, he plans to promote art, literature, music and theatre classes for the youth who don't have access to such opportunities in Nazimabad and nearby localities.

"My team and I have invested our hearts and minds into this project. We are hopeful of our initial launch and will promote a lot of events in the future that will involve us working with segments of Pakistani society which are often left out from such spaces," he said.




Umair Khan, a 24-year-old postgraduate in philosophy who frequently visits Café Commune said, "This space means a lot to me because I've been living in North Nazimabad and had to go to DHA much of my adult life to spend time with my friends."

Khan said he now doesn't have to go far to feel like he belongs to the city. "Cafe Commune is one of the many reasons that I have now started to feel at home after months of being back in Karachi," he added.

Food for thought: These eateries are offering free food to those who vote today

According to Khan, the café brings people of various backgrounds together and allows them to own the community spaces without fear of being alienated and being looked down on for being themselves.
"Such spaces empower marginalised communities and people in general. They allow us to be in a 'commune'," he said.

Khan shared that his last few months studying in the UK were a memorable experience where he had 'earth-shattering' experiences of openness, which he missed after returning to Karachi.
"I felt trapped and stuck forever after coming back," he lamented, adding that spaces such as this café can make one feel less alone because they are able to spend time with friends, enjoy music and food and be a part of a nurturing community.