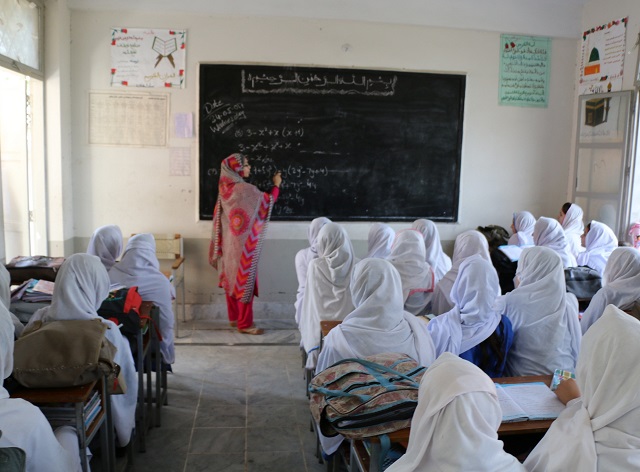 ---
PESHAWAR: The Provincial Reconstruction, Rehabilitation and Settlement Authority (PaRRSA) has reconstructed 113 militancy-affected schools in Malakand Division with the support of USAID.

Eight more schools, destroyed by the militants, are under construction and set to be completed this year in different parts of Malakand Division.

From 2008 to 2012, terrorists targeted educational institutes, mostly girl's schools in different parts of the region. A total of 309 schools including primary, middle, high, and higher secondary were hit by the militants.

Out of the 309, around 180 schools were fully and 129 partially damaged, according to the PaRRSA data.

Foreign trained 'militant' involved in Diamer schools burning identified

According to the documents out of the total completed schools, 79 are located in Swat, 12 in Buner, 20 in Lower Dir and two in Upper Dir.

Similarly, in 107 flood-affected schools across the province, the PaRRSA has reconstructed eight including Government Girls Middle School Lalkho Qaymabad Swat, Government Primary School No-2 Maloch Swat, Government High School Sadbar Kalay Lower Dir, Government Primary School Raidgai Lower Dir, Government Primary School Jalal Kot District Malakand, Government Primary School Shahidaan Charsadda, Government Primary School Kandi Tazadin Nowshera and Government Girls Primary School Pashtun Garri Nowshera.




According to the PaRRSA spokesperson, construction work in 113 Schools has been completed and furniture was provided to 109 till June 30. Similarly, eight out of total 107 flood-damaged schools have been completed and furniture has been handed over to six schools. He informed that PaRRSA with the financial support of USAID has completed 115 both militancy and flood affected schools and provided all basic facilities to the students and teaching staff thus far.

179 militancy-hit schools reopen for students in Malakand Division

It may be mentioned that a total 134 schools were destroyed in Swat, 21 in Lower Dir, seven in Buner and the remaining in Upper Dir and other areas of the Malakand Division.

Similarly, around 47 schools were reconstructed under a United Arab Emirates (UAE) assistance program, 12 under a Khyber-Pakhtunkhwa chief minister's special package, while another 12 were restructured with the support of different non-profit organisations.

Last week, unidentified attackers believed to be militants opposed to girls' education bombed and torched a dozen schools, including an Army Public School, in various parts of Diamer district, triggering road protests and blockade of the Karakoram Highway. Most of the schools were all-girls while at least one of the institutions had been attacked at least five times in recent years.