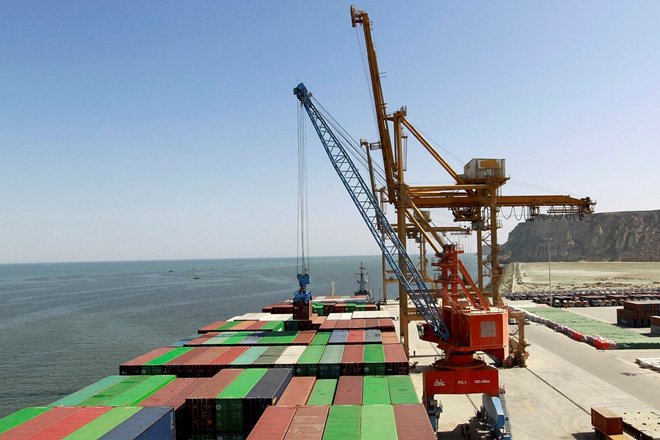 ---
ISLAMABAD: The Foreign Office has warned government functionaries against issuing unauthorised comments about the China-Pakistan Economic Corridor (CPEC) after a statement by a senior official of the Planning Commission caused stir in Beijing.

Barring government officials may further raise transparency concerns, as contracts under CPEC are shrouded in mystery.

In an article published on July 22, the Wall Street Journal had quoted the Planning Commission's chief economist as saying that China should rescue Pakistan with an interest-free loan. Otherwise "for what do we have this friendship [for]?"

CPEC won't be held hostage to third party agendas: FM

Terming such remarks 'highly irresponsible', the Foreign Office asked the Ministry of Planning to urgently devise a "system whereby all government functionaries are barred from giving unauthorised comments".

In an official correspondence sent to the ministry, the Foreign Office highlighted the sensitive nature of the issue and critical nature of Pakistan's relations with China, and asserted that devising such a system was necessary.

Pakistan is currently facing severe problems in managing its external sector debts. The country has already acquired a $2 billion concessionary loan from Beijing last month, easing pressure on domestic foreign exchange reserves and stabilising the rupee-dollar parity.

There are indications that Pakistan may also have to obtain a loan from the International Monetary Fund (IMF). However, the IMF's financial assistance will be seen by many as coming at the expense of CPEC's future expansion.

Pakistan and China signed deals worth $46 billion in infrastructure and energy sectors in 2014.

Since the beginning, controversies loomed large about the quantum of loans and investment, and the cost of those loans. There are also concerns about allowing sweeping tax concessions to CPEC projects.

Three years into the CPEC programme, Pakistan is hurtling towards a debt crisis, caused in part by a surge in Chinese loans and imports for projects such as the Orange Line, Lahore, Wall Street Journal asserted in its July 22 article.

The Foreign Office insisted that if government functionaries still make unauthorised comments, they should be held accountable because such utterances had the potential to seriously damage Pakistan-China ties.

The Foreign Office has consistently shown a propensity for blocking the flow of information.

In a meeting of the National Executive Committee (NEC) on Money Laundering that was held on Thursday, Foreign Secretary Tehmina Janjua forced participants to give up their mobile phones to keep discussions confidential.

However, Secretary Finance Arif Ahmad Khan evaded her request, said sources who attended the meeting held in the 'Q' Block.

The meeting was chaired by the caretaker finance minister.

The move to bar public functionaries from making statements was instigated on the proposal of Pakistan's embassy in Beijing.

The Foreign Office insisted that only authorised officials of the Ministry of Foreign Affairs and Ministry of Planning were competent to comment on these matters after seeking clearance from their ministers.

CPEC is guarantee of Pakistan's economic stability: Marri

On Foreign Office's recommendation, the Ministry of Planning on Friday appointed Hassan Daud as the focal person on CPEC.

Previously, Asim Khan was handling all external public affairs of the Planning Ministry.

The WSJ further wrote in its article that some ministers in the previous PML-N government had said in interviews that they should have negotiated better terms with China.

Official figures reviewed by the Journal showed that China-backed power plants had been guaranteed annual returns on investment of up to 34 per cent in dollar terms for 30 years.

In February last year, The Express Tribune had reported that Pakistan had offered up to 34.5 per cent annual profit on equity invested in coal-fired energy projects of CPEC.

Loans have been obtained at six per cent interest rates, excluding insurance cost.

Official documents also showed that if insurance costs were included, also paid to a Chinese insurance company, the cost of borrowings would surge to 13 per cent.
COMMENTS (2)
Comments are moderated and generally will be posted if they are on-topic and not abusive.
For more information, please see our Comments FAQ