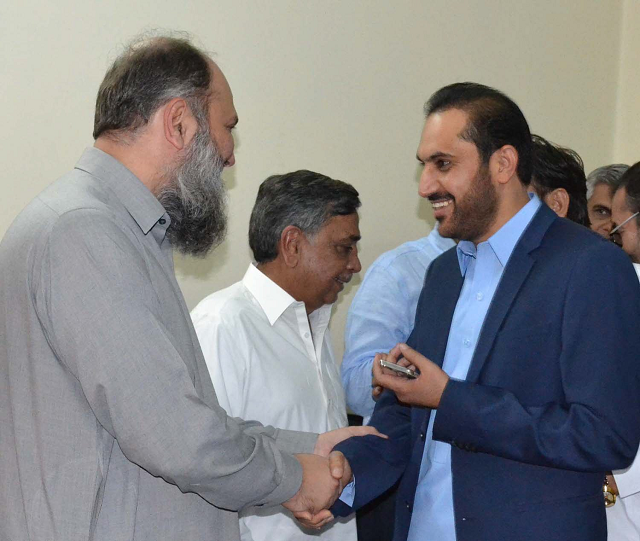 ---
QUETTA: The political parties that have tasted defeat in the general elections in Balochistan held on July 25 are not willing to accept the results without verification and recounting of the votes.

The candidates of Pashtoonkhwa Milli Awami Party (PkMAP), National Party, Majlis-e-Wahdat-e-Muslimeen, Pakistan Peoples Party, Naseerabad as well as some independent ones have alleged that ballot rigging took place in the constituencies from where they lost.

BAP, BNP-M, MMA clinch majority seats in Balochistan

Some of them have also alleged that the votes cast in their constituencies do not match the number of voters on the Election Commission of Pakistan's electoral lists.

The disappointed candidates were hopeful that within three to four days the recounting and verification of the votes in their constituency would be complete, after which, they would accept the results.

"Ousting polling agents handed free access inside and outside the polling stations to our opponents, which raises serious questions over the impartiality of general elections," said MWM candidate Agha Raza. He announced they would file an application for recounting and biometric verification of votes.

Balochistan voters throng polling stations despite terror attacks

NP candidate Yasmeen Lehri alleged that her opponents had spread false propaganda against her, which badly affected her political campaign.

"I received a warm welcome from the people of my constituency. Being a middle-class woman people showed full support for me," she added.

Following the final results announced late Friday night, Balochistan Awami Party (BAP), Muttahida Majlis-e-Amal (MMA) and Balochistan National Party-Mengal (BNP-M) emerged as the leading political parties grabbing the most number of seats of the Balochistan Assembly (BA), while the Pakistan Tehreek-e-Insaf (PTI), which is expected to form the government at the Centre, succeeded in clinching five provincial assembly seats.

For the first time after the assassination of former Balochistan chief minister and chief of Bugti Tribe Akbar Bugti, his Jamhoori Watan Party (JWP) bagged one seat each of the BA and the National Assembly. His grandsons Shahzain Bugti and Gohram Bugti announced triumph on NA-259 and PB-10 Dera Bugti, respectively.

Three held as FC foils terror bid to disrupt elections in Balochistan

Awami National Party (ANP), Balochistan chapter has three BA seats, while Hazara Democratic Party's Abdul Khaliq Hazara and Ahmed Ali Kohzad won their respective seats from Quetta.

With a majority in the BA, BAP has intensified its efforts to form government in Balochistan. BAP President Jam Kamal and former CM Abdul Quddus Bizenjo's names have surfaced for the chief minister's slot. Bizenjo is a member of BAP.

With seven seats in the assembly, the BNP-M has commenced machination with its party leaders to decide whether they would introduce their own CM or sit on the opposition benches.

Development prime objective: BAP

"Though we had made seat adjustments with the Jamiat Ulema-e-Islam-Fazl in various constituencies, we will decide our future plan keeping in view the mandate of the people of Balohistan and larger interest of the province," said BNP-M chief Akhtar Mengal.

On his approach towards BAP, Mengal said, "Neither did they try to contact us nor did we deem it appropriate to approach them."
The conundrum over the political future of Balochistan now depends on MMA and independent candidates' move as their support is pertinent for BAP and BNP-M in forming the next provincial government.

BAP awards 200 tickets to candidates for NA, BA seats

According to media reports, former CM Bizenjo has reached Islamabad on expected prime minister Imran Khan's personal invitation to develop consensus for the next Balochistan government.
With five MPAs and two MNAs in Balochistan, the PTI is likely to demand for its chief minister in Balochistan as in the beginning of this year Imran had categorically said his party would form an alliance with BAP after elections.

Disenchanted defeated candidates are unable to stipulate to accept the result alleging blatant rigging on July 25 which stifles their public mandate.