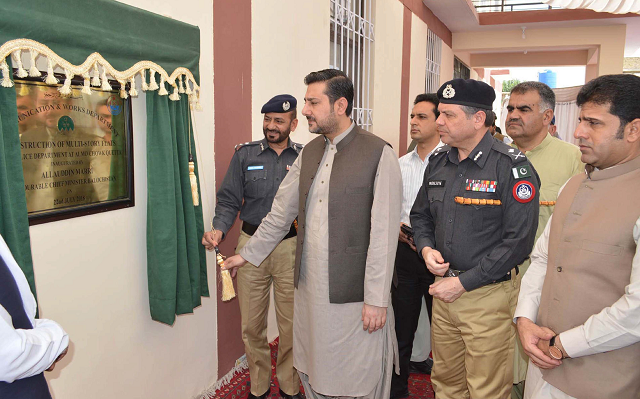 ---
QUETTA: Caretaker Balochistan Chief Minister Alauddin Mari has directed the provincial Board of Investment (BoI) to devise a policy to attract foreign investment in the province, saying "we have to take measures instead of depending on one country [China]".

"We have to intensify our efforts to bring foreign investment in Balochistan," said the interim chief minister while chairing the second session of the BoI, Balochistan in Quetta on Monday.

CM Marri vows to avenge deaths of 149 people killed in Mastung carnage

Board Chairman Rohail Baloch, finance secretary, industries secretary and other officials were in attendance.

The session decided to establish an office of BoI, Balochistan in Karachi for easy access to foreign investors and strengthening contacts with various embassies.

He told the BoI members, "There are vast opportunities of investment in Balochistan, but unfortunately we failed in coming forward with a better plan to attract foreign investors."

CM Marri kicks off cleanliness week in Quetta

Marri said that there was a need to re-map mineral industries and other lucrative sources of income in Balochistan to enhance private investment.

"Apart from Gwadar, there are many areas of Balochistan filled with natural resources that can attract international business communities," he said.

He also directed BoI, Balochistan to hire talented staff.

Inauguration
Alauddin Marri also inaugurated the Balochistan Police's residential apartments, comprising 52 flats, at Almo Chowk, Airport Road in Quetta. The apartments were completed at a cost of Rs152 million.

CM Marri orders crackdown against fake doctors

Balochistan Inspector General of Police Mohsin Butt, Quetta DIG Abdul Razzaq Cheema, Communication and Works Department Secretary Akbar Baloch and other officials were present.

Addressing the inauguration ceremony, Marri said, "The provincial government is utilising all its resources in resolving the issues faced by the police force. We are keen to strengthen our force combating terrorists on the front line."

He said, "Imparting better facilities to our police and law enforcement agencies personnel will encourage them to fulfil their responsibilities more professionally."

CM Marri directs QESCO to reduce load-shedding hours

The CM announced that a community hall and public park for the children and families of the police officers were also in the making.

On Monday, Marri also visited Civil Hospital, Quetta's trauma centre where he met the injured of the Chaghi blast and directed the health department to provide better treatment to the injured.

At least 30 people were injured in the Dalbandin area of Chaghi district on Sunday night when unidentified persons hurled a hand grenade at an election office of the Balochistan Awami Party.