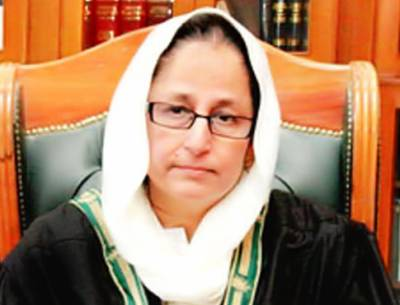 ---
LAHORE: Chief Justice of Pakistan (CJP) Mian Saqib Nisar on Monday nominated Justice Syeda Tahira Safdar as the Chief Justice of Balochistan High Court (BHC), paving way for her to become the first female chief justice of any court in the country.

"Madam Tahira Safdar will be the next chief justice of BHC," he announced.

Justice Nisar said that he will never even let a scratch come to the institution, referring to the matter of Justice Siddiqui's fiery speech against state institutions.

"Unfortunately, a few forces are trying to undermine and weaken the judiciary, I will never let that happen," he remarked. "As long as the Supreme Court exists, no threats against democracy will succeed."

BHC's incumbent Chief Justice Muhammad Noor Meskanzai is scheduled to retire on September 1 this year. He was sworn in on December 26, 2014 after Justice Qazi Faez Isa was elevated as a Supreme Court judge.

BHC may have nation's first woman chief justice

Justice Tahira Safdar will work as the chief justice of the BHC till October 5 next year. Justice Tahira Safdar is part of the special court, hearing the high treason case against former military ruler Pervez Musharraf.

Interestingly, Justice Safdar was the first woman to be appointed as a civil judge in Balochistan, besides having the distinction of being the first lady to be appointed in all posts she served. She was also the first female high court judge.

Govt yet to notify new Musharraf trial court

According to her profile on BHC's website, Justice Safdar is the daughter of Syed Imtiaz Hussain Baqri Hanafi, a renowned lawyer.

She was born on October 5, 1957, at Quetta. She received her basic education from the Cantonment Public School, Quetta, and finished her bachelors' degree from the Government Girls College, Quetta. Justice Syeda Tahira Safdar did her Masters in Urdu Literature from the University of Balochistan, and completed her degree in law from the University Law College, Quetta, in 1980.