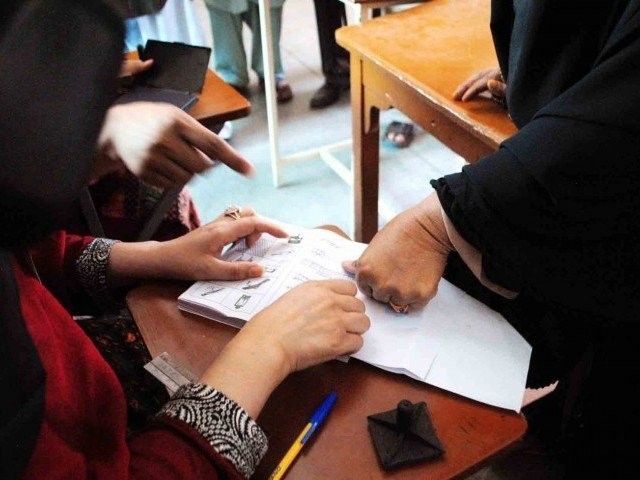 ---
HAFIZABAD: Election campaigns are at their peak and people are all set to cast votes, but there are four villages in Hafizabad where women have never exercised this right since Pakistan's inception 70 years ago.

The villages where women never cast their votes are Kot Ghazi Kalan, Kot Ghazi Khurd, Burj Fattu and Thatha Mallahwan in Jalalpur Bhattian area.

These villages are located in the constituencies of PP-69 and NA-87. The population of Hafizabad is 1.157 million and NA-87 is one of the biggest constituencies in Punjab.

Villager Noor Hussain, talking to Express News, said, "Our women will never cast votes as advised by our ancestors. We will continue this tradition of them not casting votes."

'Low representation of women voters, candidates due to persistent patriarchy'

Another villager, Amjad Ali, said they will follow the wishes of their elders and not let women cast their ballots. "Villagers like to obey landlords. Maybe in the next elections, women cast their votes in these villages, but not the upcoming polls."

The population of these villages is 6,000 and there are 1,485 registered voters including 529 women. In 70 years of the region's history, not a single woman candidate encouraged these females to vote.

Female candidates

Four female candidates from different political parties are contesting elections for NA-87 (Hafizabad). They include former Federal Minister for National Health Services Saira Afzal Tarar of Pakistan Muslim League-Nawaz (PML-N), Fehmida Kousar of Muttahida Majlis-e-Amal (MMA), Allah Rakhi of Pakistan Peoples Party (PPP) and Sadia Liaquat, an independent candidate.

Four million Balochistan women will not be able to vote in elections

The PML-N has won the most seats from Hafizabad in the past. Tarar had won NA election in 2008 and 2013 on PML-N tickets. She belongs to a prominent political family of Hafizabad and has an MA in home economics. Her father Mian Afzal Hussain Tarar was also elected twice as an MNA and as an independent candidate and on a PML-N ticket.

Tarar is the daughter-in-law of former President of Pakistan Muhammad Rafique Tarar. After winning the 2008 election, she was appointed as the Education Task Force's chairperson. After winning the 2013 elections, she was elevated as Minister for Health Services. Tarar was awarded a Sitar-e-Imtiaz for her meritorious services in the eradication of polio and hepatitis.

Biradari affiliations will determine winners in Hafizabad

She also upgraded the DHQ Hospital Hafizabad, made the trauma centre functional and provided all kinds of medical equipment, including a CT scan machine. Due to her vision and services in the health sector, Tarar has the edge over other candidates.

Rakhi is a die-hard worker of PPP. The party awarded her the ticket after ex-MPA Malik Wazir Ahmad Awan's nomination papers were rejected due to his dual nationality.

This is the second time Rakhi is contesting elections for the NA slot. She belongs to a middleclass family and lives in a village called Dhunni. She is the reportedly the least likely to win these polls.

Liaquat is the wife of Chaudhry Liaquat Abbas Bhatti, who is contesting elections for the slot of NA-87 as a candidate of Tehreek-e-Labbaik Pakistan. She is the covering candidate of her husband and belongs to an affluent family.

Kousar is a resident of a village called Borian Wala. She is an activist of Jamat-e-Islami and contesting elections on the MMA platform.
COMMENTS
Comments are moderated and generally will be posted if they are on-topic and not abusive.
For more information, please see our Comments FAQ