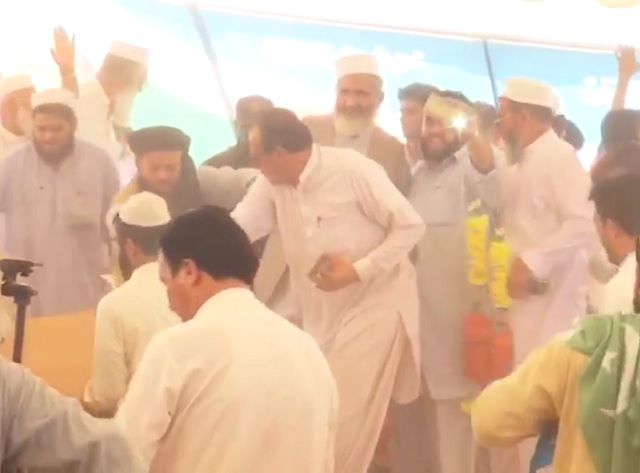 ---
PESHAWAR: The stage setup for a political gathering of the Jamaat-e-Islami collapsed on Wednesday in Mohmand district of K-P, however, no injuries were reported from the incident.

The collapse occurred after it was reportedly overburdened by party workers and leaders.

The incident happened as people more than the maximum capacity of the makeshift stage tried to get a place on it, JI information secretary Qaisar Sharif said, adding that all of them including the party chief remained safe in the incident.

Minor girl killed as Askari Park ride collapses in Karachi

Sharif said a few workers and office-bearers, however, sustained minor injuries. He thanked the Almighty for keeping everyone safe in the incident. The spokesperson said that Sirajul Haq will address a public gathering in Khyber later in the evening as scheduled.



JI's provincial chief Senator Mushatq Ahmed Khan was among those present on the stage.

The incident took place two days after former K-P chief minister Pervez Khattak sustained minor injuries in a similar incident. The Pakistan Tehreek-e-Insaf (PTI) leader, along with others, fell off the stage during an election rally in Nowshera on Monday.

On Monday, Haq during the speech reminded the audience that Pakistan has an Islamic Constitution, however, the previous rulers didn't stay loyal to it. "MMA alliance is an ideological alliance. If we win the government for even one day, we will bring back the caliphate," he added.

Sirajul Haq demands judicial inquiry into change in oath

"Our first revolution will be economic. Votes shall be respected only if respect is given to Islam, Shariah, the Holy Quran and mosques." President Muttahida Majlis-e-Amal (MMA) Maulana Fazlur Rehman lamented that the rulers of Pakistan have failed to give apt Islamic teachings to the people of the country.

"I urge all to support MMA to introduce an Islamic system in Pakistan and bring an end to using interest in this country," he maintained. The State Bank of Pakistan (SBP) has increased the interest rate by more than two per cent but the interim government is not elected and hence not accountable to people.