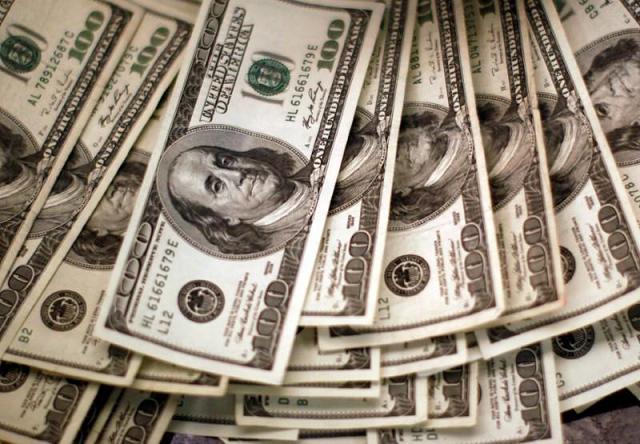 ---
KARACHI: Uncertainty and speculation continued to dominate the trade of US dollars in the open market as the rate hovered around Rs130.5 on Tuesday.

A day after the rupee weakened by 5.3% in the inter-bank, taking the exchange rate to Rs128 at close on Monday, currency dealers feared a further plunge and saw the number of transactions reduced by three-fourths of the usual volume.

The development comes as the State Bank of Pakistan (SBP) devalued the rupee by 5.3% in the inter-bank market on Monday with a fall of another Rs0.5 following on Tuesday, putting the currency at 128.5 against the US dollar.

Since December 2017, the central bank has let the rupee fall by close to 22%.

"The open market trade was affected as buyers and sellers have resorted to staying on the sidelines for clarity on the rupee-dollar parity," Pakistan Forex Association President Malik Bostan told The Express Tribune.

"The sale of dollars was cut to one-fourth at around $1 million (on Tuesday) compared to the usual demand of around $4 million a day in the open market."

Currency plunges to Rs128 against dollar

Currency dealers sold most of their holdings in the inter-bank market after individual buyers remained on the sidelines, he added.

"Speculations regarding further devaluation have also convinced sellers to sit on the fence," said Bostan, adding that it would take a few days for the dollar rate to normalise.

On the other hand, the central bank elaborated that the movement in the exchange rates (rupee-dollar parity) reflects the demand-supply gap of the foreign exchange in the inter-bank market.

Currency could weaken to Rs125 to the dollar: Moody's

Pakistan's foreign expenditures have remained much higher than its income. Higher expenditures are partly being financed by SBP's foreign currency reserves, which have depleted to less than two months of import cover at $9.47 billion.

Published in The Express Tribune, July 18th, 2018.

Like Business on Facebook, follow @TribuneBiz on Twitter to stay informed and join in the conversation.
COMMENTS (4)
Comments are moderated and generally will be posted if they are on-topic and not abusive.
For more information, please see our Comments FAQ