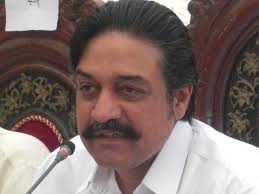 ---
KARACHI: The Grand Democratic Alliance (GDA) and the Muttahida Majlis-e-Amal decided to join hands against the Pakistan Peoples Party (PPP) and announced seat adjustment in Sindh.

The decision was made during a meeting between MMA Sindh President Rashid Soomro and GDA leader Pir Sadaruddin Shah Rashdi. The meeting was held in Hala late Monday night.

MQM-P, GDA join forces against PPP in Sindh

Addressing to media, both leaders announced to support each other in various districts said they would soon finalise districts and constituencies to defeat the PPP. "Zardari league has looted and plundered Sindh's resources. It is high time to get rid of it," Rashid Soomro, President of MMA's Sindh chapter said.

Soomro who is contesting the election from NA-200 (Larkana) against PPP Chairman Bilawal Bhutto Zardari expressed his gratitude and appreciated the FIA on opening the Rs35 billion laundering case. "We request NAB and other investigating agencies to take action in Sindh."

Sadaruddin Shah Rashdi said that they were ready to sit with all groups, including MQM, against PPP in Sindh. "We have decided on seat adjustment with MQM also. Our motive is to defeat PPP in Sindh as they have failed to deliver in the province."

GDA leader refutes reports of seat adjustments with MQM-P

"No one can challenge us if three spiritual seats of Sarwari Jamaat, Ghousia Jamaat and Hur Jamaat join hands and make an electoral alliance," he said while referring to spiritual gadis headed by Makhdoom Jameel ul Zaman, Pir Pagara and Shah Mehmood Qureshi.