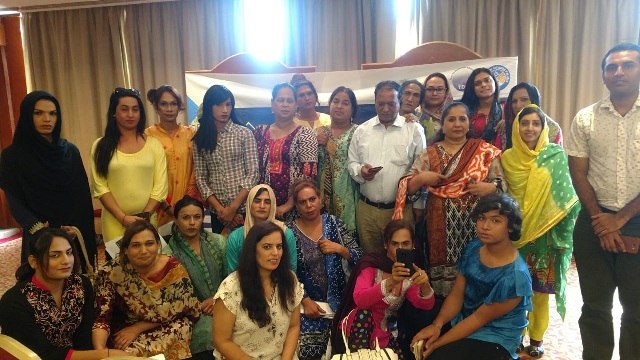 ---
KARACHI: In an attempt to make Pakistan's electoral process more inclusive and participatory for some of the vulnerable sections of society, around 25 transgender persons were appointed on Wednesday by the Free and Fair Election Network (Fafen) as election observers for the first time.

They were appointed at a training, 'Capacity Building Workshop on Election Day Observations', organised by Fafen in collaboration with the Gender Interactive Alliance (GIA) to promote human rights and active electoral participation of some of the vulnerable groups of society which include persons with disabilities, transgender persons and women.

As election observers, the transgender persons are to observe and note down any violation of rights or act of discrimination against the vulnerable sections of society at polling stations in the upcoming general elections on July 25.

In conversation with Marvia Malik, Pakistan's first transgender news anchor

Any direct violations and observations would immediately be conveyed to presiding officers while survey forms would be filled by the electoral observers to report incidence of political and electoral violence. The form will then be submitted to the Election Commission of Pakistan (ECP) at day end.

The sensitisation and training workshop focused on building capacity of the election observers so that vulnerable groups could take part in the electoral process without difficulty and exercise their right to vote independently.

Zahid Abdullah, project manager of Fafen, while speaking to The Express Tribune said, "Fafen has nearly 19,000 members who will be monitoring the election this year. Out of these 19,000 members, we have trained around 125 transgender persons selected from across Pakistan to monitor and enhance the capacity of citizens belonging to vulnerable groups."

"We think the transgender community deserves more opportunity and this training aims to support them," said Abdullah, adding that the aim of the training is to mainstream the rights of transgender persons so that they can be active citizens of society.

"The 25 transgender persons appointed as electoral observers from Karachi are part of our experimental project to highlight the experiences of transgender persons in the upcoming elections," he added.

Transgender activists, allies rejoice as historic 'bill of rights' gets parliament's nod

Nisha Rao, a transgender activist and programme manager at GIA said, "As transgender persons, we face a lot of issues when it comes to our participation in the upcoming elections. Transgender persons aren't issued their CNICs by NADRA [National Database and Registration Authority] because of which they are unable to vote," Rao claimed.

"I believe more needs to be done at a government level for equal and fair participation of the transgender community in the elections," she lamented, adding that, "It's sad to see majority of the political parties have not been able to stand for our rights in their election manifestos, but we are still happy that Fafen has been able to trust and give us jobs as election observers. It means a lot."

Established in 2006, Fafen is a coalition of 30 non-governmental organisations to observe the upcoming general elections and mobilise voters striving to strengthen public accountabilities by enhancing the capability of citizens' associations to work for civil liberties, improved governance, democracy and peace in Pakistan.