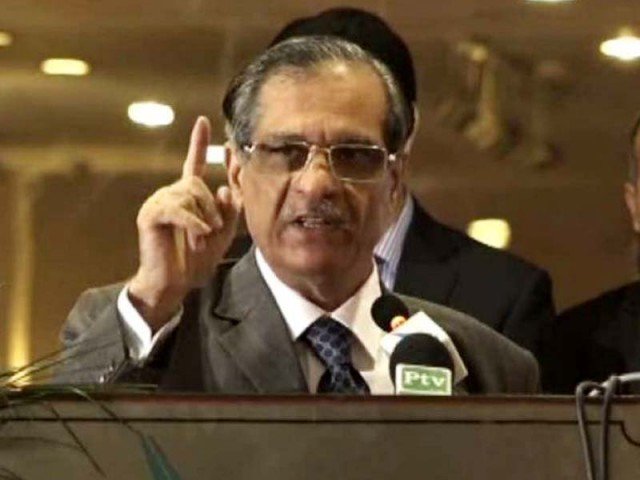 ---
ISLAMABAD: Unimpressed with finding the outpatient departments and offices of consultants locked in a major government hospital on a Sunday, the top jurist in the country has asked that some doctors must keep the department open on the weekends.

This was directed as Chief Justice of Pakistan Mian Saqib Nisar visited the Federal Government Services Hospital (Polyclinic) in the capital on Sunday. It followed a trip to multiple health centres in neighbouring Rawalpindi.

Chief Justice Nisar was expected to visit the hospital on Saturday. Health officials could be seen as tense and anxious on Saturday. However, he kept officials waiting all day and popped in for a surprise visit on Sunday.

He was displeased with the outpatient departments closed and said that some doctors should be present on holidays.

CJP Nisar went on to visit various departments at the hospital, including the emergency, intensive care and emergencies of children and gynaecology.

Lower court judge resigns following 'humiliation' at the hands of CJP

Patients at the hospital told the CJ their problems which he asked the management to resolve immediately.

Noting the lack of facilities for conducting Computed Tomography (CT) scan and Magnetic Resonance Imagery (MRI) at the hospital, the CJP said that such facilities should be available for patients in a tertiary care hospital.

Upon pointing out the issue of extending the hospital, which has been pending for more than a decade, the CJP asked about the reasons for the delay.

Hospital officials said that since the hospital is due to be extended on a piece of land which has been earmarked as the Argentina Park, some environmentalists and activists had challenged the allocation of the land in the Supreme Court.

The CJP asked hospital officials to write to him on the matter so that he can try and give a decision in favour of the hospital so that its facilities could be extended.

CJP denies running 'anyone's campaign' while visiting Rawalpindi hospital

He further asked hospital officials to write to him about other issues at the facility so that he can help resolve them.

During the visit, the CJP collected samples of medicines from the pharmacy set up in the emergency ward to check the quality of medicines provided at the hospital.



Published in The Express Tribune, July 2nd, 2018.
COMMENTS
Comments are moderated and generally will be posted if they are on-topic and not abusive.
For more information, please see our Comments FAQ