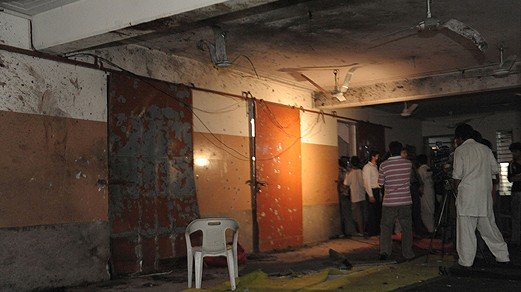 ---
One of main suspects in the attacks on the Ahmadiyya community, Abdullah, has close ties with the banned organisation Lashkar-i-Jhangvi and has been associated with the Fidaeen of Malik Ishaq, one of the founders of Lashkar-i-Jhangvi, people close to the accused told The Express Tribune on Sunday.

Abdullah and an accomplice were captured when they attacked the Ahmadi place of worship on May 28 in Model Town, Lahore. Abdullah is reported to have told the police about his origins and his father's name during preliminary interrogations.

According to a police report which was published on May 29, Abdullah was a resident of Saja village of Tehsil Khanpur, district Rahimyar Khan, and his caste is Chachar. His family, the police said, moved from Rahimyar Khan to Karachi about a decade ago.

Abdullah's relatives, who requested anonymity, told The Express Tribune that the local police were continuously conducting raids in the area and that they had refused to reveal they were related to the accused.

One relative said that during the 1990s, Ishaq had visited the area and stayed with Abdullah's family. He said Abdullah's family had helped Ishaq in collecting wheat, funds and sacrificial hides from the area for Sipah-e-Sahaba Pakistan, an outfit which was not banned at the time.

The relative said that after Ishaq's arrest in 1997, Abdullah's family migrated to Karachi. He also said that Abdullah preached and recruited many others for jihad in Sahja Town.

Sahja Police SHO Inspector Amanullah Warraich told The Express Tribune that he and various teams of law enforcement agencies in the area are trying to locate Abdullah's father and his family, but have yet not succeeded.

The head of the Chachar family, Sardar Sadiq Chachar, told The Express Tribune that around a thousand members of the family lived in Mouza Jangi of Sahja Town, and none of them were members of Abdullah's family.

He said that majority of Chachars migrated to Karachi where they attended madrasahs and started preaching around the country.

Raees Haji Ehsan, a relative of Abdullah's family, said that Abdullah's father migrated from Sahja to Karachi a decade ago. He also admitted meeting Abdullah in Rahimyar Khan in December last year, where he was living with members of the banned Sipah-i-Sahaba and Lashkar-e-Jhangvi.

A close friend of Ishaq and former office bearer of Lashkar-i-Jhangvi, who requested anonymity, told The Express Tribune that there are still 2,500 trained Fidaeens of Malik Ishaq currently in Rahimyar Khan. He said that Abdullah was trapped by one of these men and was sent to the tribal areas for training.

He also said that Ishaq's trained fidaeens have changed their strategy of violence due to lack of leadership, and have divided Rahimyar Khan into different zones where they recruit people.

DPO Rahimyar Khan Babar Sarfraz, however, denied the existence of fidaeen in the city and said that it was a peaceful place. According to him, religious harmony prevails in the district and reiterated that Abdullah's family had migrated from the city.

Published in the Express Tribune, May 31st, 2010.

Update: May 31

One more arrest


Law enforcement agencies arrested a suspect named Hazrat, who they say is a key figure in connection with the Lahore attack.




Law enforcement personnel recieved a tip off from arrested suspect Abdullah during interrogation. He told them that the Ferozwala resident provided logistic support. Officials said this is an important arrest and will help them make further arrests.




Two other suspects from Raiwind and one from Mazang were also held.
COMMENTS (10)
Comments are moderated and generally will be posted if they are on-topic and not abusive.
For more information, please see our Comments FAQ