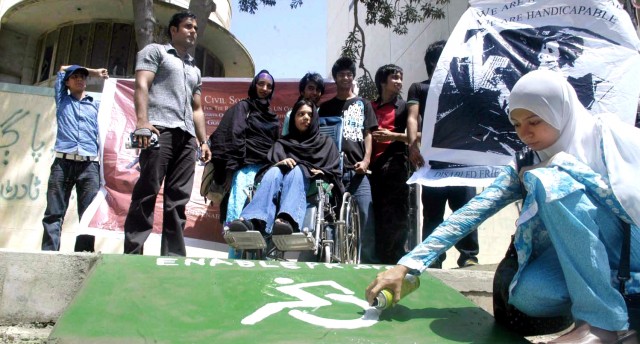 ---
KARACHI: Students from across the city turned into temporary carpenters on May 30 as they got together to build ramps for people with disabilities or PWD - which incidentally is also the short form for the government's Public Works Department.

The idea was put forward by Uzma Shah, a 28-year-old who lost the use of her legs in an accident six years ago. Confined to a wheelchair Uzma went through the struggle of leading a life that she felt capable of despite society's oblivion. She completed her education from the Karachi Institute of Information Technology, however, afterwards she went through several universities that were inaccessible to her simply because they did not have ramps and other pro-PWD facilities.

She got into the PAF-Karachi Institute of Economics and Technology for her MPhil in computer sciences but her troubles continue. "I stay stuck in my apartment, which is on the fifth floor, because the lifts don't work during power outages," she told The Express Tribune in a voice bereft of self-pity.

Annoyed at the government apathy, Uzma decided to take charge herself. She held a press conference at the Karachi Press Club on December 3, 2009 when she appealed to the government to take note of PWDs and cater to their needs and requirements.

When all remained quiet on the official front, Uzma came up with an idea of a task force called Enable Pakistan. The task force came into being on May 23 with its first project: ramps for PWDs at Tariq Road.

A group of around 30 students from different universities across the city got together under the supervision of six 'core committee members'. They built two cemented ramps near Rasheed Sons at Tariq Road.

They got together once again on Sunday and supervised the construction of five more ramps spaced at intervals along the same road. The whole process took around four to five hours.

"It would've taken a lot less if we were not a new group that is just learning by trial and error," she said. "The government could do this so much more quickly."

The small group of able volunteers worked under the leadership of six young graduates. "We all had our separate duties," Uzma said.

Shazia, a final-year MBBS student at Ziauddin university hired the four daily wage labourers. "We got them at Rs700 per labourer for the entire day," explained Uzma.

Another aspiring doctor from the same university, Owais was in charge of painting the ramps, while Zara, a first-year student from SZABIST acquired all the painting gear. Hassan, also from SZABIST, bought the cement, blocks and other construction material while the entire process was supervised by Ammar, a NUST graduate, and Kumail, a final-year MBBS student.

"Maybe the government will be shamed into taking action when it realises that its job is being done by students at their own expense," Uzma said, adding that her task force was just the beginning.

Published in the Express Tribune, May 31st, 2010.


COMMENTS (13)
Comments are moderated and generally will be posted if they are on-topic and not abusive.
For more information, please see our Comments FAQ