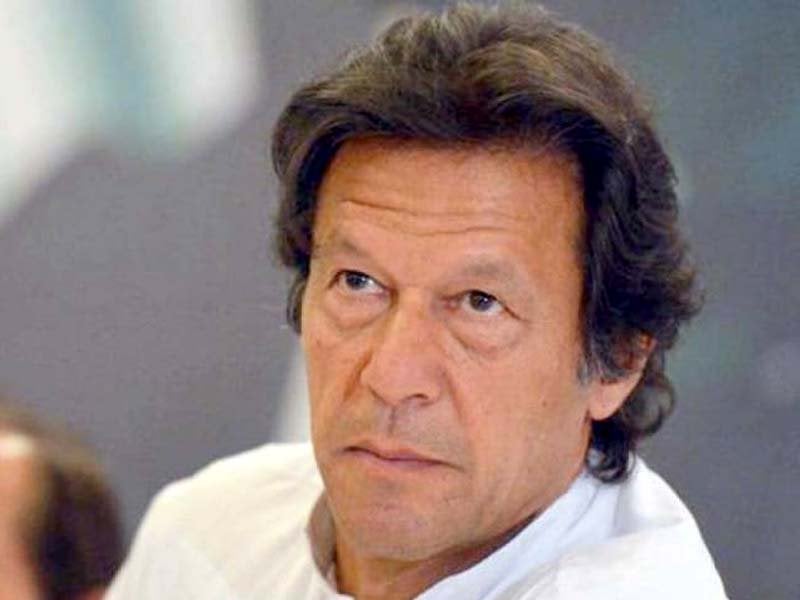 ---
PESHAWAR/ LAHORE: An election tribunal of Bannu registry of the Peshawar High Court has directed PTI chairman Imran Khan to appear before the tribunal on Tuesday (today) and explain his position regarding the appeal filed against the acceptance of his nomination papers for NA-35. The appellant has accused him of concealing facts by not mentioning Tyrian White as his daughter in his nomination papers.

The objection on his nomination papers was raised by Inamullah Khan Advocate, a candidate of ex-CJP Iftikhar's party from NA-35 Bannu, from where the PTI chief is also contesting and the RO has already given approval to his nomination papers.

Imran tells ECP he does not own a vehicle

In his appeal, Inamullah has adopted stance that Khan has a daughter Tyrian from Sita White, a British woman, but has not mentioned her as his daughter in the nomination papers.

He added that by concealing facts, he has committed a crime; hence he does not qualify the article 62 of the constitution of Pakistan. According to Article 62-1(f) regarding eligibility of a parliamentary candidate, a person who is not wise and honest is not eligible to be elected as an MNA.

He added that despite the fact he has concealed facts the returning officer has accepted his nomination papers to contest election from NA-35.  Inamullah has requested the tribunal to declare Khan disqualified to contest election from the constituency.

An election tribunal of the PHC has been set up to hear appeals against decisions of the returning officers over the acceptance or rejection of papers. Headed by Justice Abdul Shakoor, the tribunal has directed Khan to appear before it on Tuesday (Today) at 9 am and explain his position.

NA-95

An appellate tribunal of Lahore High Court headed by Justice Faisal Zaman on Monday nullified decision of a returning officer rejecting nomination papers of Pakistan Tehreek-e-Insaaf chairman Imran Khan from NA-95 Mianwali.

Petitioner Khan had filed an appeal contending that his nomination papers were rejected despite having submitted the affidavit in-time. He said the RO ignoring facts rejected his nomination papers. He prayed the tribunal to declare decision null and void.

As the proceedings commenced, Khan's counsel Babar Awan contended that his client had not concealed anything in his nomination papers. He also submitted two judgments before the tribunal. The tribunal head Justice Zaman did not allow arguing to the irrelevant lawyers except the lawyer of genuinely aggrieved.

"Your objections have been rejected" said Justice Zaman to a lawyer Mohsin Qazi who wanted to draw tribunal's attention to some important points. Advocate Qazi revealed that Khan's signatures did not match on each page of his nomination papers. Khan had been ordered by the RO to appear in person but the PTI chief did not turn up as he was busy in a party meeting which means he priortised party commitments over the RO's order.

At this Justice Zaman directed the counsel to produce RO's written order. Advocate Qazi said written order is not available at this moment but is available in case file of constituency NA-131. The counsel implored Khan mentioned his two kids only in his nomination papers but did not mention his controversial daughter. He said Khan accepts his daughter Tyrian in England but reject the impression in Pakistan.   Qazi further argued Khan did not deny his daughter but refuses commenting on this matter. He told the court Khan is no more Sadiq and Ameen.

Awan contended that allegations against Khan were of false nature and had nothing to do with reality. He prayed the tribunal to accept Khan's nomination papers and invalidate the RO's decision.

Imran Khan cleared to contest NA-95, NA-131 by election tribunal

PPP's Azizur Rehman Chun   

An appellate tribunal reserved decision on an appeal filed against RO's decision to accept nomination papers of PPP's candidate Azizur Rehman Chun from constituency PP-144.

The petitioner had contended PPP's candidate had not mentioned his actual assets and concealed the truth but even then his nomination papers were accepted by the RO. The petitioner prayed the tribunal to reject his nomination papers.

PTI's Aleem Khan

Another appellate tribunal dismissed an appeal challenging RO's decision to accept nomination papers of Aleem Khan from NA-129.

Petitioner Iftikhar Shahid, PPP's NA-129 candidate, contended that Aleem had not shown his assets when he had contested by-election from NA-122 in 2015. But this time he has mentioned one offshore company which he had hidden in 2015. He argued the PTI leader had not mentioned his source of income while NAB is also investigating him for financial irregularities. However, the tribunal dismissed the appeal and maintained RO's call.
COMMENTS
Comments are moderated and generally will be posted if they are on-topic and not abusive.
For more information, please see our Comments FAQ