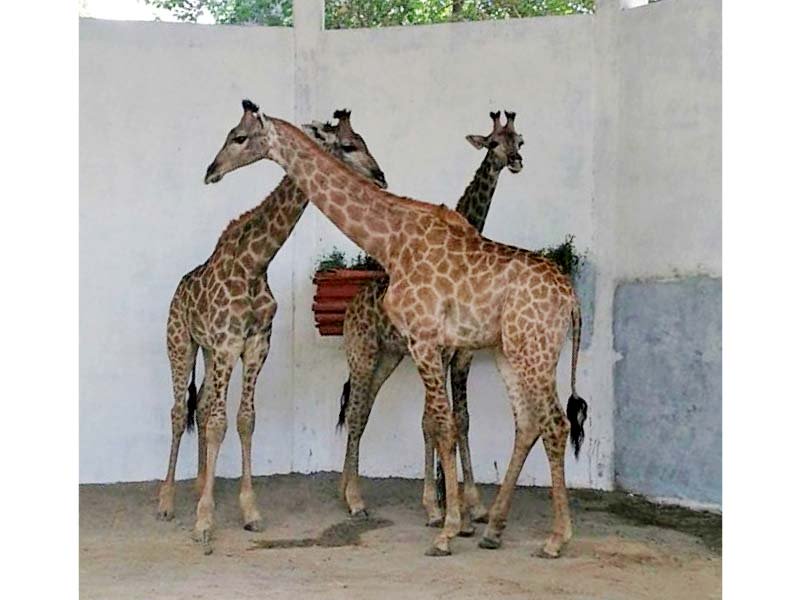 ---
LAHORE: Three giraffes from South Africa were welcomed at the Lahore Zoo on Monday.

In an effort to complete existing pairs and to bring in new animals, three giraffes from South Africa have been brought to the Lahore Zoo. The giraffes, which cost a total of Rs19.9 million, will be kept in quarantine for a month. The payment will only be made after if the animals remain in proper health.

Lahore Zoo's only giraffe died in 2015 and the enclosure has remained empty ever since. Now, it will soon be occupied by one male and two female giraffes.

As a whole, the Lahore Zoo has spent Rs110 million on purchasing new animals, which include elephants and a rhinoceros.

The arrival of the animals has increased the liveliness at the zoo, said Punjab Wildlife and Parks Director General Khalid Ayaz. Soon, elephants, a rhinoceros, seahorses and a chimpanzee will be added as attractions, he revealed.

Giraffes 'threatened with extinction'

New birds and animals are also being purchased for the Lahore Safari Zoo and other wildlife parks in Punjab, he stated.

Earlier in June, a male guanaco, a camelid native to South America, died from a heat stroke. The zoo administration had installed makeshift overhead sprinklers, using plastic pipes fitted with nozzles, in order to keep the animals cool. Despite this, the guanaco, a species used to a much colder climate, succumbed to the relentless heat. The best efforts of veterinary doctors could not save the animal's life.

The male guanaco came to the Lahore Zoo along with two females. One guanaco cost around nine million rupees.

Published in The Express Tribune, June 26th, 2018.
COMMENTS
Comments are moderated and generally will be posted if they are on-topic and not abusive.
For more information, please see our Comments FAQ