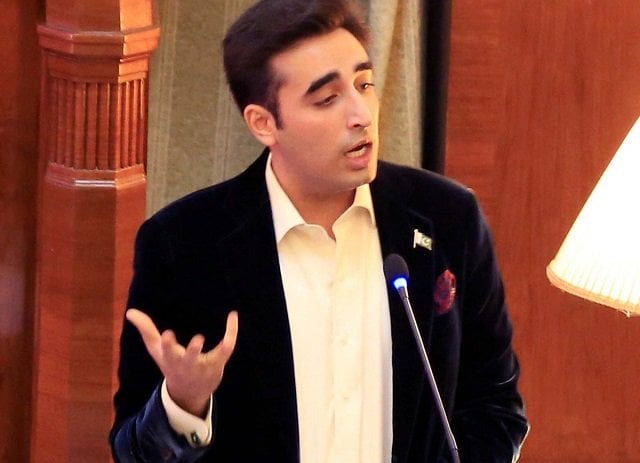 ---
ISLAMABAD: All properties and businesses that Pakistan Peoples Party (PPP) Chairman Bilawal Bhutto-Zardari has declared in his nomination papers to the Election Commission of Pakistan are inherited from the family, party's spokespersons Senator Mustafa Nawaz Khokhar said on Saturday.

Reacting to reports concerning Bilawal's asset details, Khokhar, who also heads Senate Standing Committee on Human Rights, said the PPP chairman has declared his income tax returns for the last three years in all his nomination papers.

"All properties and businesses that have been declared by Mr Chairman were inherited from his family. As for those questioning how Bilawal House Karachi is worth Rs3 million, it should be mentioned that Section 116 of the Income Tax Ordinance, 2001, says: 'All assets [whether purchased or inherited] should be valued at cost'. PPP Chairman inherited Bilawal House Karachi in early nineties and at that time, it was valued at Rs3 million."

PPP will not accept 'censored, puppet democracy', says Bilawal

Social media users reacted strongly after media reports cited Bilawal House valued at Rs3 million in PPP chairman's nomination papers submitted to the ECP.

Senator Khokhar said none of the 70 candidates contesting against Bilawal in all three National Assembly constituencies raised any objection over his nomination papers.

"Copies of his nomination papers were taken by all other contesting candidates – including those from the PTI, JUI, MQM, PML-N and MMA among others and none of them raised any legal objections whatsoever," said the PPP stalwart, adding that his party's chairman had only followed the law in letter and spirit while filing his nomination papers.

"We respect the law of the land and believe in transparency."

Bilawal, in his nomination papers, declared more assets than his father Asif Ali Zardari. Bilawal owns assets worth Rs1.5 billion. He has stated most of his property to be gifts received from Zardari, his mother Benazir Bhutto, Zulfiqar Ali Bhutto and Hakim Ali Zardari.

Imran tells ECP he does not own a vehicle

According to the affidavits submitted to the ECP, he has two dozen properties in and outside Pakistan. He has Rs50 million in cash and Rs13.8 million in banks. He does not own a car. He has two UAE work permits while the price of Bilawal House at Clifton Karachi is stated to be Rs3.0 million.

He also owns villas in Dubai, of which one was a gift. Bilawal has 20 residential, commercial and agricultural properties in Pakistan. Most of them were gifted to him by his parents, grandfather and others. Bilawal has prize-bonds worth Rs1.2 million from his mother. He has shares worth Rs1.1 million in the Zardari group and Park Lane E Estate. He made 22 investments in Dubai and one in Britain. Most of these were given to him by his mother as gifts. He has arms, furniture and articles of daily use of Rs3.0 million.