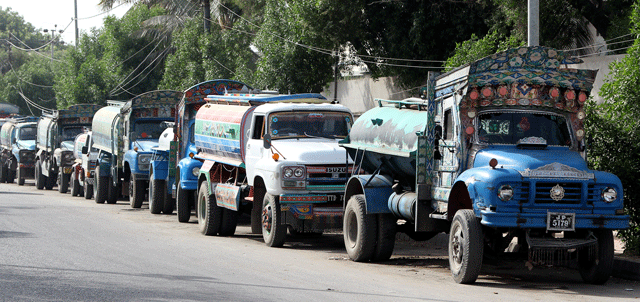 ---
HYDERABAD: The National Highways and Motorway Police has warned the freight transporters to comply with the approved dimensions of the vehicles to avoid penalties.

N5 South Zone DIG Karamullah Soomro conveyed the warning to representatives of transporters during a a meeting at his office in Jamshoro on Friday.

Rana Asim, Imdad Ali Naqvi and Nizam M Khan from Toyota Indus, Pak Suzuki, Deewan Motors, R K Motors and All Pakistan Car Carriers Association attended the meeting. The DIG said it was being observed that length and width of the trucks were longer than the permissible dimensions.

At least 10 killed in Sindh road mishaps

"Such vehicles often cause accidents besides becoming a main cause of traffic clogging on the highways and motorways," DIG Soomro said. He asked the transporters to comply with the approved dimensions or be ready to face a crackdown that would start on the M9 Motorway and National Highway against the vehicles, length and width of which exceeded the approved limits.

According to Motorway Police Spokesperson Naeem Siddiqi, the transporters assured the DIG that they would implement the rules.

Vehicles up to 100 feet long have been plying on the highways. However, the maximum length allowed by the Motorway Police for a car carrier truck is 65 feet (ft). For the rest of the types of trucks, tankers and trailers, the maximum length is between 57 and 60ft.

The permissible width for all these vehicles is 8.3ft while the allowed height varies from 13.12 to 15.97ft.