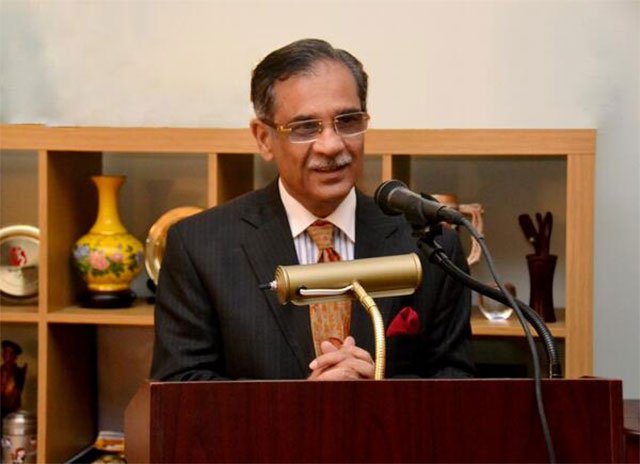 ---
HYDERABAD: Chief justice of Pakistan Mian Saqib Nisar has warned that the blame game against returning officers would not be tolerated.

"Humiliation, undue public criticism of ROs won't be tolerated," he said while addressing Sindh High Court Sukkur Bar Association's reception in Sukkur on Friday night.

He asked politicians contesting the upcoming general elections to show respect for the ROs.

The chief justice said, "If there are any complaints against the ROs the same should be submitted in writing to the judiciary."

He said the Supreme Court has to take suo motu notice in cases pertaining to human rights.

"It is the responsibility of the government to ensure these rights. But when we get complaints like shortage of doctors, paramedics, medical equipment and medicines in civil hospitals, we take the notice."

Justice Nisar had earlier visited Ghulam Muhammad Mahar teaching hospital in Sukkur where he expressed dismay over the lack of facilities and other problems.

He directed Medical Superintendent Anwar Palari to submit a complete report about the state of facilities, shortage of doctors, staff, medicines and machines to the Supreme Court.

Similarly, he pointed out that the provision of safe drinking water was also a very important human rights issue for which Justice (retd) Amir Hani Muslim has been made chairmen of the Supreme Court-mandated water commission in Sindh.

He praised Justice (retd) Muslim for working hard to address the complex problems of water and sanitation in the province.

"There was a problem with Manchar Lake for which Rs14 billion were set aside. But due to the intervention of the apex court and the commission the problem was resolved without spending a single rupee," he told the audience.

Justice Nisar said the issue of education is also equally important because the nation cannot develop without education. "We have to intervene when the fundamental rights are denied."

He stated that the superior judiciary is trying to institute judicial reforms and asked bar associations to take equal responsibility in the matter.

Sindh High Court Chief Justice Ahmed Ali Shaikh and other SHC judges, besides senior lawyers, SHCBA Sukkur office-bearers and other district bars attended the event.

Meanwhile, Advocate Ume Rubab Chandio, whose grandfather, Union Council Chairman Karamullah Chandio and two other relatives were shot dead on Jan 17 in Dadu district, appealed to the chief justice to take notice of the killings.

Justice Nisar asked the SHC's chief justice to direct an anti-terrorism court to give a verdict on the case within two months.

The lawyer had earlier unsuccessfully attempted to approach the chief justice's vehicle outside the Supreme Court's registry in Karachi last month.