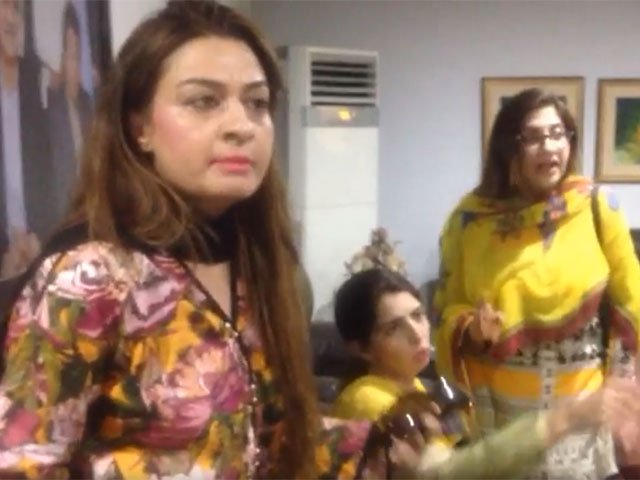 ---
Pakistan Tehreek-e-Insaf (PTI) women members engaged in a verbal scuffle in Lahore, apparently on the awarding of tickets on reserved seats for the forthcoming general elections.

In the video that has since gone viral on social media, at least two women are seen arguing aggressively with another, believed to be the party's election cell in-charge Aliya Hamza.

One of the protesting women could be heard saying, "the party stands on years of contribution from our side and this woman has conveniently omitted our names [as nominees]."

ECP irked by 'major bureaucratic reshuffle' in K-P ahead of elections

Another PTI member keeps asking Aliya as to why their names were omitted. She is heard asking the election cell in-charge thrice to explain "have we not worked for the party." As the verbal scuffle continues, Aliya is seen trying to communicate with someone over the phone in an apparent attempt to resolve the situation.

The incident comes hours after Shah Mehmood Qureshi and Jahangir Tareen – two political heavyweights of PTI – exchanged barbs as the party faces an uphill task of resolving the issue of awarding party tickets with general elections only a month away.

On June 18, party's chief Imran Khan, after a review, decided to draft the women priority list himself. The party's workers had complained that the names in the list were undeserving while those forwarded by regional presidents were ignored. However, Manzah and Aliya Hamza asserted that the list was prepared using names provided by regional presidents. Consequently, Imran directed party's lawyer Babar Awan to review the legal process for re-submission of the priority list.


COMMENTS
Comments are moderated and generally will be posted if they are on-topic and not abusive.
For more information, please see our Comments FAQ