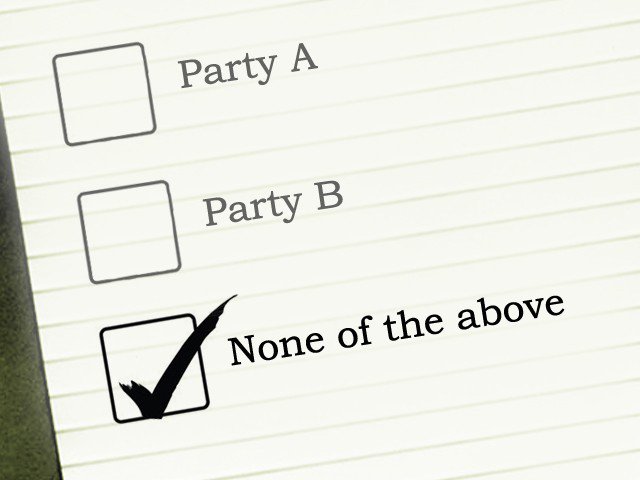 ---
The Sindh High Court on Wednesday issued notices to the Election Commission of Pakistan (ECP), advocate-general and deputy advocate-general on a constitutional petition seeking the inclusion of 'None of the Above' (Nota) column on ballot papers.

The two-judge bench, comprising justices Muhammad Ali Mazhar and Omar Sial, fixed the next hearing for June 21.

The petitioner, Dr Natasha Mustafa, is the daughter of a late advocate of Supreme Court, Ghulam Mustafa Lakho, who started this campaign some 12 years back. Dr Mustafa took up the cause after her father's death.

Through her counsel, Advocate Manzoor Khoso, Dr Mustafa prayed to the SHC that an additional column of 'None of the Above' should be added to ballot papers under Article 19 of the Constitution.

ECP decides against introducing 'none of the above' vote

In the upcoming general election, apart from showing the names of contesting candidates, the ECP should add an extra column at the bottom with an option of Nota in the ballot papers as it would enhance the scope of political expression and public confidence in the democratic process, Dr Mustafa urged.

"This option is a fundamental right of every citizen in consideration of Article 19-A of the Constitution, which recognises freedom of expression," Dr Mustafa told The Express Tribune.

Referring to countries like India, US, Bangladesh, Spain, Columbia, Russia and Chile that provide this option in their electoral system, the petitioner lamented, "In Pakistan, we just have the right to approve [candidates]. What about our disapproval?"

In April 2013, the ECP decided against introducing the Nota option in the ballot papers for the 2013 general elections after announcing earlier in the month that it would include the option in the ballot papers.

Modified ballots: 'Vote for none' option sparks controversy

The commission had said that since the election schedule had been announced, making such a change would be inappropriate.

However, Dr Mustafa believed that the ECP turned back on its decision due to political pressure.

"People are scared of the Nota vote being higher than votes for the candidates."

In 2012, the Supreme Court in its verdict on the Workers Party case had asked ECP to contemplate this option, which is in practice in some countries.

She believed adding the Nota option will improve the statistics and voter turnout. People who normally do not vote would also participate in the political process and exercise their right to vote, she commented, explaining that the addition of this option will ensure credibility and enhance accountability and transparency to the electoral process.

"Right now, the power is with the political parties, not the people," Dr Mustafa said, adding that currently, ballot papers did not give all options to the voters to express their opinions.

The Nota option - if included - will give voters for the first time a choice of rejecting all candidates contesting in their respective constituencies.